The 2020 Give Wildlife a Chance Poster Contest winners have been announced.
Attention, K–5 Teachers!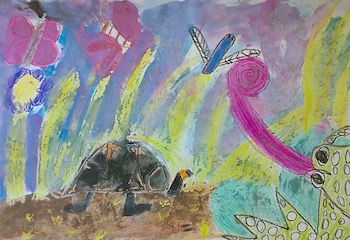 The Georgia Department of Natural Resources (DNR), The State Botanical Garden of Georgia and The Environmental Resources Network, Inc. (TERN) encourage you and your students to participate in the 31st annual Give Wildlife a Chance Poster Contest! As part of DNR and TERN's "Kids for Conservation" initiative, this art contest provides a unique opportunity for kindergarten through fifth-grade students to explore the wonders of Georgia's native plants and animals through the 2020–21 theme: Nature is Everywhere!  
We look forward to working with you and your students at the 31st annual Give Wildlife a Chance Poster Contest!
If you have any questions, please contact: Linda May (linda.may@dnr.ga.gov, 706-557-3226) or Cora Keber (ckeber@uga.edu, 706-542-6158).
Contest Entry Form
---
Teacher Tips
Supporting Activities & Resources
Spending time outdoors is one of the best ways to practice social distancing. Take the #ResponsibleRecreation pledge at Responsible-Recreation.org.
Ask students to pick a Sit Spot, a designated place outside to become familiar with nature. Discuss any fears and review safety rules in advance. Have students sit quietly on their spot for at least 5 minutes (progressively extend time during future visits). With paper and pencil, ask them to record their observations: What do you see, smell, feel and hear? What thoughts or memories come to mind while spending time outside? Do you feel anxious or relaxed?
Conduct an inventory of the plants, insects, birds and other wildlife found in your backyard or schoolyard. Use field guides and/or technology to help with species identification (Seek by iNaturalist is a great app). Contribute data to scientists through a citizen science project like eBird, iNaturalist, Journey North, NestWatch or Project Feederwatch. 
Choose one or more activities designed by the State Botanical Garden to explore nature near home! Check out spots at botgarden.uga.edu/education/home-education.
---
Poster Contest Rules & Guidelines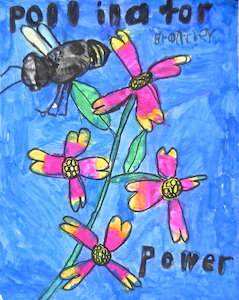 Eligibility
The contest is open to individual students (no group drawings) in kindergarten through 5th grades.
Homeschool groups, public schools and private schools are encouraged to participate.
Schools/groups may enter one poster from any or all divisions:
Division 1: Kindergarten
Division 2: First and Second Grades
Division 3: Third and Fourth Grades
Division 4: Fifth Grade
Each school/group may enter no more than a total of four posters to the state-level contest (one entry per division). State-level entries are normally the artwork of the first-place school or homeschool group winners.
Entry & Format Requirements
New for 2020–21, all state-level artwork entries must be submitted electronically. Therefore, any size flat artwork is fine as long as it can be photographed well (photos may be taken with a smart phone or camera). Collages and other three-dimensional artwork are not eligible.
For each state level entry, submit a full-frame photo of the artwork a photo of the accompanying completed Entry Form (via email to Audrey S. Mitchell at The State Botanical Garden of no later than Friday, April 9, 2021: astadler@uga.edu)
ENTRY DEADLINE: Friday, April 9, 2021.
---
Contest Awards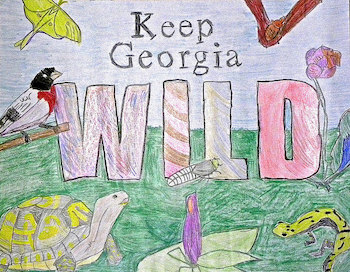 Certificates & Ribbons
Educators may request Give Wildlife a Chance certificates for all students who participate in their local school competition, as well as first-, second-, and third-place ribbons to present to class, grade level or school group participants. There is no limit to the number of certificates or ribbons a participating school can receive.
Email Audrey S. Mitchell (astadler@uga.edu) with the following information:
School name
Contest coordinator's contact information (email and street addresses, phone #)
Total number of students participating in the contest by grade level
Number of certificates, first place, second place and third place ribbons needed
State-level Award 
The artwork of first-, second- and third-place winners in the state-level contest will be showcased on GA DNR Wildlife Resources and State Botanical Garden social media. Winners also will receive state-level award ribbons and may be recognized in other ways.
 
Special Perks for Teachers & Parents of State Winners!
The teacher and one parent of each state-level winner will receive a free wildlife license plate, thanks to TERN! Details will be emailed to the winning students' teachers and parents. To see wildlife tag options, visit gadnr.org/license-plates.