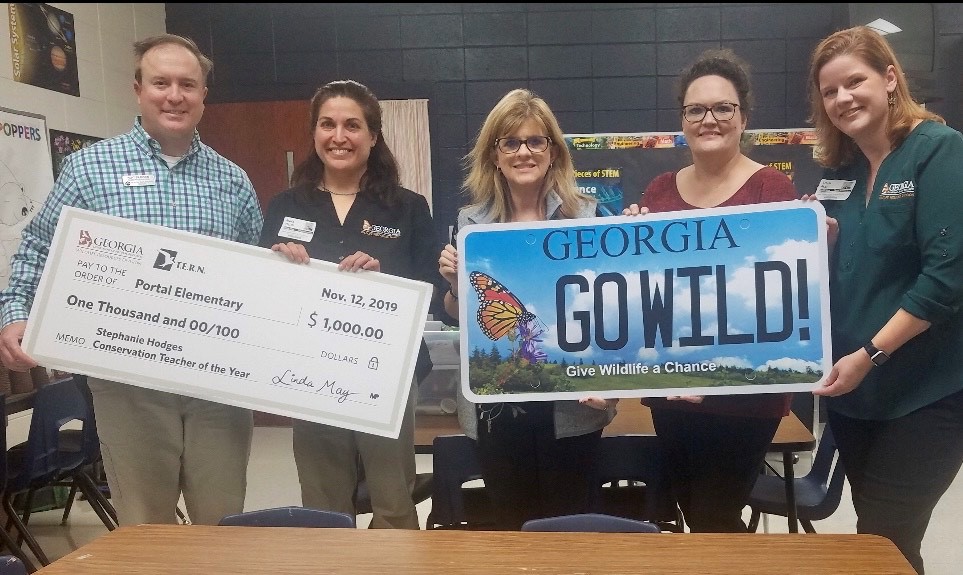 The Wildlife Conservation Section of Georgia DNR's Wildlife Resources Division offers a $1,000 grant to a third-, fourth- or fifth-grade teacher who demonstrates exceptional energy and innovation in teaching life sciences. Project proposals must include Georgia's native animals, plants and habitats as the context for learning curriculum standards. One teacher is selected based on project design and how well the grant proposal questions are answered. Funding is made available by The Environmental Resources Network. TERN is the friends group of the Wildlife Conservation Section.
Stephanie Hodges at Portal Elementary received the 2019 Conservation Teacher of the Year grant. Hodges was selected for her Pollinator Paradise proposal, according to Linda May, DNR outreach coordinator. "Cross-curricular creativity, volunteer involvement and donations to leverage grant funds made Mrs. Hodges' proposal stand out," May said. "She also displayed a thorough understanding of how to empower students to help wildlife." View photos from the 2019 award visit.
---
2020 Grant Application Information
2020 grant information will be posted in summer 2020. Below, you can find 2019 information for reference.
Also available at www.eeingeorgia.org.
2019 Grant Application Information
Documents
Deadline
Application Deadline: September 6, 2019 (e-mailed or postmarked by). 
Send grant applications to Anna Yellin at anna.yellin@dnr.ga.gov or: 
GA DNR WRD, Wildlife Conservation
"Conservation Teacher of the Year" Grant
2065 US Highway 278 SE
Social Circle, GA 30025
Agreement
NOTE: By submitting a grant application, you agree to the following: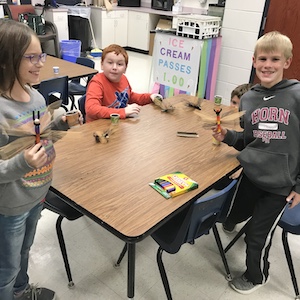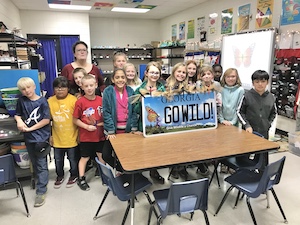 My grant proposal promotes the understanding of environmental issues facing wildlife (animals and plants) and Georgia habitats.
My grant proposal does not seek more than $1,000.
If funded, I commit to follow-up communication with Georgia DNR Wildlife Conservation staff concerning the execution of this grant, including a brief final report. Media to accompany this report (photos, video, PowerPoint, etc.) is encouraged.
I understand that my project(s) must include ADULT supervision on school grounds. Grant funds may not be used to cover transportation costs (buses, gasoline, etc.).
My principal or director has approved this project.
I have viewed the application's scoring rubric (point-weighted questions) and understand the guidelines that will be used to score my application.
If funded, I understand that a check will be made out to my school/organization. 
Notification
Winner will be notified by September 27, 2019, and funds awarded soon thereafter. Grant funds must be spent by May 31, 2020. If funded, I agree to submit a final report to DNR postmarked by June 15, 2020. All receipts must be submitted with final report.