Donate Directly
Send checks payable to "Georgia Wildlife Conservation Fund" to:
Georgia Wildlife Conservation Fund
c/o Wildlife Conservation Section
2067 U.S. Highway 278 SE
Social Circle, GA 30025
For the Bobwhite Quail Initiative, send checks payable "Georgia DNR: BQI Donation" to:
ATTN: Georgia DNR: Bobwhite Quail Initiative
116 Rum Creek Drive
Forsyth, GA 31029
Donations are tax deductible to the extent allowed by law. For more information: Wildlife Conservation Fund, (706) 557-3303 or Rebecca.rawlins@dnr.ga.gov
---
Donate Online
Donate to the Georgia Wildlife Conservation Fund at www.gooutdoorsgeorgia.com. Donors new to the license/permit system will need to click "Licenses and Permits" and create a customer account.
Contributions are critical to restoring and protecting Georgia's rare and other wildlife not legally fished for or hunted, plus rare plant species and natural habitats. This work also benefits game animals and helps provide lands for outdoor recreation.
---
State Income Tax Checkoff
Give by filling in an amount of $1 or more on line 31 of Georgia's long income tax form (Form 500) or line 10 of the short form (Form 500EZ). Contributions go to the Wildlife Conservation Fund. Every contribution helps. Created in 1989, the Give Wildlife a Chance checkoff has averaged more than $300,000 a year, benefiting conservation of gopher tortoises, cerulean warblers, smooth purple coneflowers and other species. State income tax forms and e-filing details are available online. Georgians can also support our state's nongame wildlife at tax time. What is often called the Give Wildlife a Chance state income tax checkoff provides an easy and effective way to contribute to the Georgia Wildlife Conservation Fund. By filling in a dollar amount on line 30 of the long form (Form 500) or line 10 of the short form (Form 500-EZ), citizens can support nongame species management and conservation in Georgia.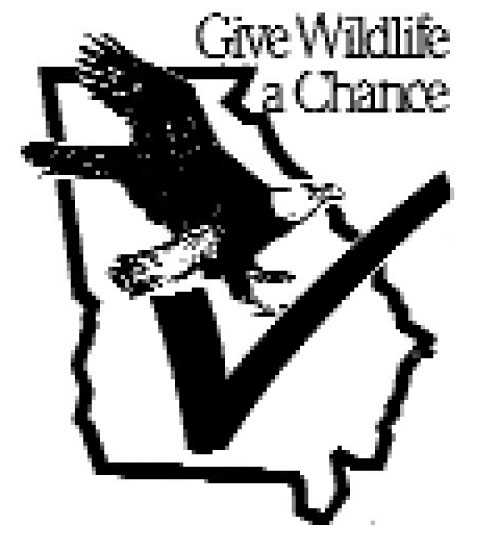 For more information, call Wildlife Conservation Section offices in Social Circle (770-761-3035), Forsyth (478-994-1438) or Brunswick (912-264-7218).
---
Donate to the Georgia Natural Resources Foundation
The mission of the Georgia Natural Resources Foundation is to support the efforts of the Georgia Department of Natural Resources to sustain, enhance, protect and conserve Georgia's natural, historic and cultural resources for present and future generations, while recognizing the importance of promoting the development of commerce and industry that utilize sound environmental practices.
---
Join TERN
The Environmental Resources Network, or TERN, is a 501c3 nonprofit and the friends group of the Wildlife Conservation Section. TERN provides financial support for the section and its projects, from a web-based guide to Georgia's crayfishes to providing transponder tags to help mark bog turtles. Members receive a newsletter and the opportunity to participate in wildlife field trips and projects. Donations are tax-deductible. Details: (478) 994-1438 or www.tern.homestead.com.
---
Attend Weekend For Wildlife
Held early each year on Sea Island, this prestigious fundraiser for the Wildlife Conservation Fund mixes outdoors adventure with a spectacular auction and banquet. Weekend for Wildlife has raised millions for conservation of Georgia's rare wildlife and plants since the event's start in 1989. Registration opens in November.
---
Consider Estate, Memorial & Other Gifts
Call the Wildlife Conservation Section office in Social Circle, (770) 761-3035, or the Bobwhite Quail Initiative office in Forsyth, (478) 994-7583, for information on ways to support nongame conservation and BQI with contributions varying from real estate to memorial gifts.
---
Explore Easements
Easements can preserve the conservation value and private ownership of property while offering significant tax benefits. Contact the Georgia Land Conservation Program for details.
---
Volunteer for Wildlife Work
Opportunities are available at DNR's regional education centers and for some wildlife projects (volunteer hours can sometimes be used in matching grants). You can request information about volunteer opportunities by contacting the Wildlife Conservation Section (gabiodata@dnr.ga.gov) or our the education centers.