Last updated: 5/15/23 at 11:50 a.m.
---
WMA, PFA, & Hatchery Closures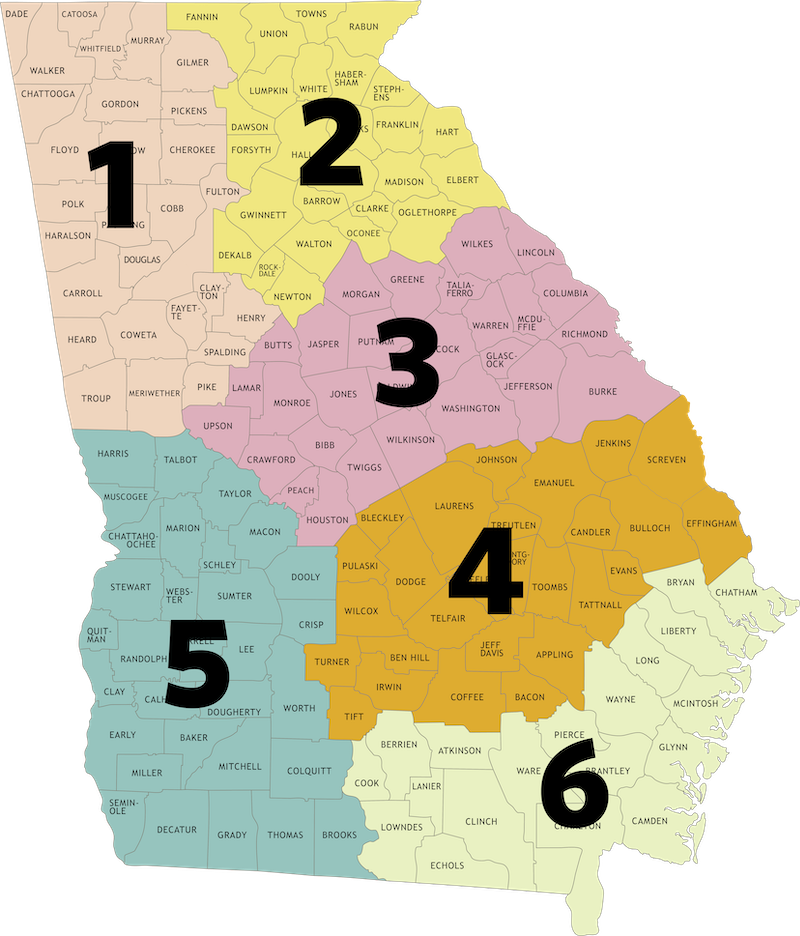 Region 1
Updated 10/29/21 at 2:47 pm
ATTENTION HUNTERS: Berry College has initiated a construction project to make repairs and improvements at their reservoir.  As a safety precaution, access for the general public is prohibited in the vicinity of the reservoir. Additionally, the roads that are located around the reservoir will not be available for hunters.  Hunters will still be able to access the WMA from Berry Hill Road and can travel to the 4-way intersection on top of Lavender Mountain.  However, they will be unable to make the loop around the reservoir.  If you have questions, please call the Region 1 WRD Game Management office at (706) 295-6041.
Updated 4/1/21 at 3:52 p.m.
Mooneyham Road is closed starting at the second gate due to landslides.
Updated 5/2/23 at 8:18 a.m.
Pine Log WMA is closed indefinitely beginning June 2nd.
---
Region 2
For road closures on U.S. Forest Service properties (Blue Ridge, Chattahoochee, Chestatee, Cooper's Creek, Lake Russell, Redlands, Swallow Creek, and Warwoman), please visit https://www.fs.usda.gov/main/conf/ for the most current information.
Updated 12/20/2022 at 4:39 p.m.
Rock Creek Road will be closed starting 01/16/2023 for repairs. Depending on weather, roads are set to tentatively reopen at the end of January. There will be access from HWY 60 to Frank Gross campground during the construction period but no thru traffic past the campground.
Updated 1/13/23 at 11:32 a.m.
The Shoal Creek Road is closed until further notice.
Updated 4/25/22 at 8:51 a.m.
The road to the Wildcat Creek Campground from Steve Tate Highway is a rough road and is suitable only for vehicles with high suspensions or four-wheel drive.
Updated 12/02/22 at 11:42 a.m.
Vaughter Tract Ponds are closed to fishing for restocking purposes and will reopen July 1, 2024.
---
Region 3
Updated 2/3/23 at 1:23 p.m
Storm damage cleanup is primarily complete. However, a small portion of the Red Trail on the east side of Clubhouse Lake is still closed due to potential hazards caused by significant tree damage along the trail.
Updated 4/17/23 at 11:03 a.m.
The Clybel/Charlie Elliott public campground is closed due to renovations. Tentative reopening will happen in March 2024.
Updated 12/1/22 at 8:34 a.m.
Construction will be starting on Highway 79 in Lincoln County on the powerline right-of-way. This will not impede access to the WMA but will continue through the end of the hunting season.
---
Region 4
Updated 1/10/2023 at 11:43 am
Due to high water levels from Oconee River, the following roads are closed on Beaverdam WMA: Three Bridges Road (at the bridges), Boat Landing Road, and Swamp Cut Road.
Updated 8/26/2022 at 3:36 pm
WMA users should note that the Big Hammock entrance on Canal Road is currently closed due to road maintenance.
---
Region 6
Updated 9/16/21 at 12:25 a.m.
The job of repairing Hurricane Irma damages to the Altamaha Waterfowl Management Area (located on the Altamaha Wildlife Management Area) continues. Waterfowl hunters planning to hunt this area should take note of repairs and conditions to help prevent unwanted surprises and frustrations.
Updated 7/9/21 at 8:33 a.m.
Due to military training needs on the federally owned portion (Highway 221 tract) of Grand Bay WMA, that section will be closed to public access periodically.
The automatic gate to the Grand Bay WMA boardwalk and lookout tower is open from 6 a.m.–8 p.m. daily and during classes at the Education Center. Anyone in that area after 8 p.m. may be locked in and is subject to being ticketed by the GADNR Law Enforcement Division.
---
Education Centers
Updated 1/13/23 at 10:00 a.m
Charlie Elliott Wildlife Center, parts of Clybel WMA and Marben PFA sustained damage during last night's storms. The properties remain open, but visitors are encouraged to proceed with caution as crews work to remove trees and debris from the storm. In particular, there are trees down along Murder Creek Rd.
---
Shooting & Archery Ranges
The shooting range will be closing for repairs and renovations beginning January 28th.
---
Boat Ramps
If designated parking areas on boat ramps, shooting ranges, trail heads or similar areas are full, the area has reached capacity. Do not park outside designated spaces. Do not park in any area not designated for legal parking. Normal rules for parking on WMAs apply—see hunting regulations on page 41.
**Contact region offices should you want to check ramp conditions ahead of time.
Closures
Ogeechee River Boat Ramp SR4/US1 (Jefferson County)
Updated 2/15/2022
Effective immediately the Ogeechee River Boat Ramp located in Jefferson County at Georgia State Route 4/US Highway 1 is closed due to bridge replacement construction operations. A heavy crane will be placed at the ramp site to facilitate the movement of materials for the bridge project. Currently, a re-opening date for the ramp is unknown. Alternative boat ramp locations on the Ogeechee River are as follows: upstream at State Hwy 88 (Jefferson County), and downstream at State Hwy 78 (Jefferson County).
Uvalda Landing
Updated 7/5/22 at 9:14 a.m.
Uvalda Landing in Montgomery Co. is reopened as a "Hand Launch" for canoes and kayaks. Improvements will soon begin at Bell's Ferry Landing (also in Montgomery Co at the Oconee River) as a refurbished boat ramp with expanded parking.
U.S. 1 Boat Ramp (Altamaha River)
Posted 7/29/20 at 10:50 a.m.
U.S. 1 Boat Ramp on the Altamaha River (Toombs County) is temporarily closed for a bridge-related construction project. Construction is expected to take 28 months. Need to access the river? Anglers may access this part of the Altamaha River at Dean's Landing, located approximately 5 miles upstream from the Appling County side.
U.S. 129/221 Boat Ramp (Alphaha River)
Posted 5/15/20 at 11:49 a.m.
The Georgia DNR boat ramp on U.S. 129/221 at Alapaha River in Lanier County will close for replacement on May 30, 2023.  Duration will be approximately 8 weeks.  Alternatively, boaters and anglers may access the Alapaha River at SR 168.
Cautions
No cautions at this time.