Last updated: 5/15/19 at 12:04 p.m. EST
---
WMA Closures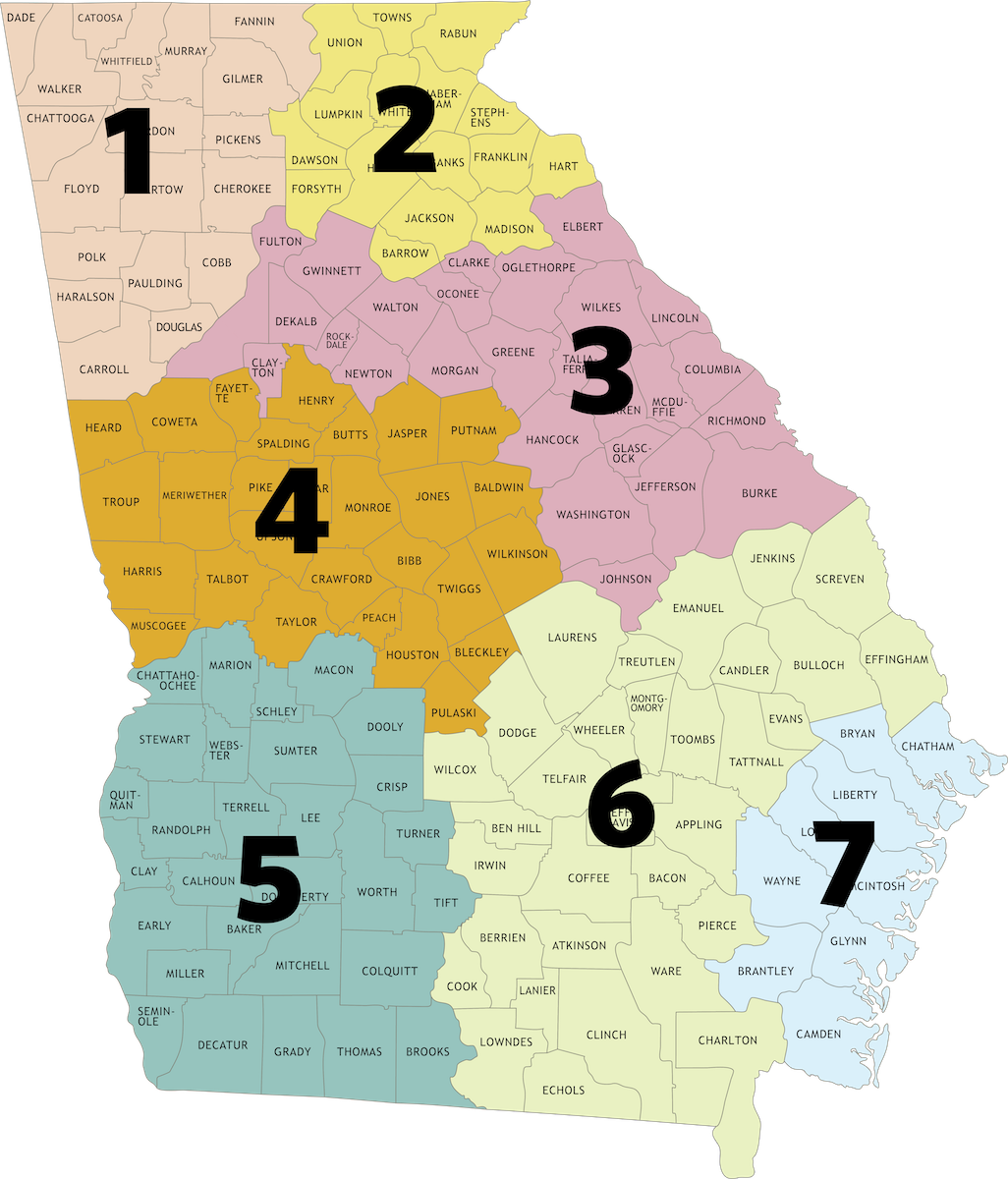 Northwest Georgia (Region 1)
Storm damage has created some road issues on Cohutta WMA. The Cohutta Ranger District reports the following issues:
Rocky Flats Road (FS 630D) is closed due to storm damage and will re-open when repairs are completed.
posted 2/25/19 at 12:47 p.m.
A portion of the Shirley Miller Wildflower Trail is closed. Recent rains have caused another landslide resulting in fallen trees and damage to the boardwalk. We realize this is a difficult decision as peak wildflower season is approaching. However, due of safety concerns, and the need to contain people to the boardwalk to protect sensitive vegetation, only a portion of the boardwalk will be open. Areas marked closed should be considered closed to all foot traffic. This also means that the waterfall will be inaccessible from the bottom. At this time we do not have an estimated reopening timeframe.
Northeast Georgia (Region 2)
Boggs Creek Road is open for day-use only.
updated 4/20/19 at 8:20 a.m.
The following gates have been closed on the City of Atlanta Tract due to extreme wet conditions: Ford Road, Field Road, Powerline Road, Beaver Dam Road. Gate 70 past the horse camp is closed which limits access to all of the other gates on the City Tract.
updated 4/20/19 at 8:20 a.m.
All secondary roads are closed on Lake Russell WMA. Foot traffic is welcome.
updated 4/20/19 at 8:20 a.m.
All secondary roads are closed on Lake Russell WMA. Foot traffic is welcome.
East Central Georgia (Region 3)
Due to a City of Atlanta ordinance, the eastern tract of Cowart Lake VPA is unavailable to hunting at this time. Birdwatching, nature photography, and other non-hunting related activities are still allowed.
This WMA has access points off of Highway 78/10 between Thomson & Washington. GDOT is widening this road. The access points are still open, but may not be accessible. Hunters are encouraged to scout & locate these points prior to hunting season.
DOT has closed a USFS bridge on Skull Shoals Road.
The shooting range is closed. Please contact the U.S. Forest Service at 770-297-3000 for more information.
posted 2/22/19 at 3:22 p.m.
Multiple roads are closed as of 2/22/19 due to flooding and/or damage by misuse of local off-roading clubs. Gates are closed to affected roads. Currently closed: Powerline Road, Hog Road, Low Swamp Road, Well Road, Buck Flat Road, Blowout Road, Marietta Road, Finch Road, Millers Lake Loop, Table Road, Mimosa Road, Dove Field Road, Hilltop Road, Piney Woods Road, Possum Creek Road and McKinney Road.
posted 5/13 at 2:22 p.m.
During the special coyote and hog hunting season at Tuckahoe (May 16–31), hog hunting with dogs is not allowed.
West Central Georgia (Region 4)
p​osted 1/28/19 at 12:15 p.m.
Due to lake renovation and restocking, the lake that is part of the M.A.R.S.H. project will not be able to be fished until 2021.
posted 4/19/19 at 4:28 p.m.
Marsh Road is closed due to a washed out culvert.
Shooting Range: The 50-yard range is closed on educational Range Days.
The gate that goes down to the river is closed. We apologize for the inconvenience.
added 3/26/19 at 8:22 a.m.
A timber salvage operation has been planned due to storm damage of tornadoes that went through the area March 3rd. The start date of the harvest has not been arranged.
Southeast Georgia (Region 6)
updated 4/1719 at 8:37 a.m.
Recent heavy rains have caused Main Road, Tillman Tract Road and Hammock Lake Road to be closed. Roads will reopen approximately 2 weeks after water recedes below 9 ft and roads dry such that repairs can be made to make roads suitable for vehicular traffic.
Due to military training needs on the federally owned portion (Highway 221 tract) of Grand Bay WMA, that section will be closed to public access periodically until September 2019.
A portion of this tract (off Highway 84) is closed due to flooding from the Alapaha River.
Coastal Georgia (Region 7)
updated 3/8/19 at 10:06 a.m.
The job of repairing Hurricane Irma damages to the Altamaha Waterfowl Management Area (located on the Altamaha Wildlife Management Area) continues. Waterfowl hunters planning to hunt this area should take note of repairs and conditions to help prevent unwanted surprises and frustrations.
The road accessing McGowan Lake boat ramp is open. The road around the lake remains closed until it dries out and repairs can be made.
This property is closed indefinitely.
The bridge on Sapelo Island WMA is compromised due to the effects of Hurricane Irma. Hunt routes have been modified. There are still fallen and leaning trees. Hunters should proceed with caution.
updated 2/28/19 at 11:03 a.m.
The road accessing the Buck Island Tract is closed until further notice due to high water levels.
On the North Tract, the road that crosses Horse Fjord is closed.
On the South Tract, Wesley Lake Road is closed.
---
Shooting Ranges
The J.L. Lester Archery Range located on J.L. Lester WMA in Polk County is currently closed for renovation work. The re-open date is not yet determined.
posted 4/9/19 at 12:51 p.m.
Mayhaw shooting Range is closed due to safety concerns resulting from structural damage to the pavilion. The structure is in process of being replaced. We hope to have the range reopened by June 1, 2019. Thank you for your patience.
posted 4/4/19 at 8:16 a.m.
The Ocmulgee Shooting Range will be undergoing construction starting April 22, 2019. Construction efforts will be limited to the parking lot areas of each range. Facility operations will continue; however, we ask that customer vehicles are parked outside the perimeter fence for the duration of the construction project. There will be signage to indicate the temporary parking area. Please direct all questions to the active range safety officer(s).
On Oct. 1, both the archery and shooting range at Richmond Hill WMA closed for renovations. The renovation work is expected to take approximately six months to complete. The re-open date is not yet determined.
posted 4/23/19 at 8:15 a.m.
The Walton Archery range is currently undergoing renovations and will be temporarily closed until further notice.
---
Boat Ramps
Contact region offices should you want to check ramp conditions ahead of time.
Closures
Baurle Boat Ramp: Savannah River Lock & Dam (Augusta)
The Baurle Boat Ramp has been closed by Augusta EMA due to high and rising water. Expected closure duration is unknown.
Chattahoochee River
posted 4/23/19 at 3:22 p.m.
The Mossy Creek boating access site on the Chattahoochee River at the Hall/White County line is temporarily closed. The tornado that hit north Hall County last week may have hit this site, too. The entrance gate is closed until WRD can assess the damages and clear the access road for safe public passage.
Ocmulgee River: Wise Creek
The Wise Creek access on the Ocmulgee River on U.S. Forest Service land in Jasper County is closed for repairs. Signs are posted at Wise Creek and at Popper Tract (located upstream—since many kayakers and canoeists put in at Popper Tract and traverse down to Wise Creek for takeout). It is not yet known when repairs will be able to be scheduled, so there is currently no planned re-opening date.
Oostanaula River
posted 2/21/19 at 3:22 p.m.
The entrance and parking lot for the Highway 140 boat ramp on the Oostanaula River in Floyd County is flooded. Until conditions are determined safe, the entrance gate to the facility will remain closed and locked. The gate and area will re-open once conditions improve.
Cautions
No cautions at this time.
Upcoming Maintenance & Construction (Ramps Open)
No upcoming maintenance at this time.