Residents and non-residents born on or after January 1, 1961 must successfully complete a hunter education course prior to purchasing a season hunting license. However, a hunter education course is not required to purchase an Apprentice License or a license identified as a "Short Term" License. Hunter education courses certified or mandated by any state wildlife agency or Canadian province are accepted. Hunter Education is not required to hunt on one's own land or land of a parent or guardian.
Are you a recent hunter education graduate? Learn more about the new three-month range pass for new hunter education graduates.
---
Age Requirements
Hunters Under Age 12
Hunters under age 12 are not required to complete a hunter education course. However, no one under age 12 may hunt unless under direct supervision, i.e. within sight or hearing of licensed adult (at least 18 years old) hunter. It is unlawful for an adult to permit their child or ward under age 12 to hunt unsupervised. Special restrictions apply to Wildlife Management Areas (WMAs) & National Wildlife Refuges (NWRs).
Hunters Age 12–15
Must complete a hunter education course prior to hunting unless under direct supervision of a licensed adult hunter. It is unlawful for an adult to permit their child or ward (12–15) to hunt without adult supervision unless the child possesses a hunter education certificate while hunting.
Hunters Age 16–25
Must present a hunter education certificate when purchasing a season hunting license and must possess the certificate while hunting.
Hunters Over Age 25
Hunters over age 25 and born after January 1, 1961 must meet hunter education course requirements but need not present their hunter education certificate when buying a season hunting license or possess it while hunting.
---
Online Courses for GA Hunter Education Certification
Currently, there are several approved online hunter education courses (with varying fees) that Georgia residents may take for a convenient alternative to the classroom course.
Follow these steps to complete your hunter education certification completely online:
Locate or create a GoOutdoorsGeorgia.com account.
Choose to take and complete any of the five online hunter education courses below.
After you pass your course, log into your account and print your new Georgia Hunter Safety Certificate. Having trouble printing your certificate? Please call 1-800-366-2661.
Recently refreshed with a contemporary look, students of this course will learn how to be safe, responsible hunters. This course provides 24/7 toll free technical support, each page is narrated and you only pay when you pass. This course has a charge of $28.50.
3-Step Certification
Study the course FREE
Pass the test
Pay only AFTER you pass, a one-time cost of $28.95 and print your certificate
Course Features
9.5 Rating from Real Students
In-Site Customer Service
Desktop, Mobile or Tablet
The official material taught in a classroom course
Why take your state-required hunter education course here?
One-time cost of $19.95. Lowest online cost for a narrated & interactive experience. No pass = no pay
Animations, closed captioning, narration and photos (not illustrations)
Sixth grade reading & comprehension level
The Hunter Course class has:
EXCLUSIVE: Virtual Field Day to best prepare you for the field!
Full Narration
Full Illustration
Animations
Videos
Visual Quiz Questions
One-time course fee of $29.00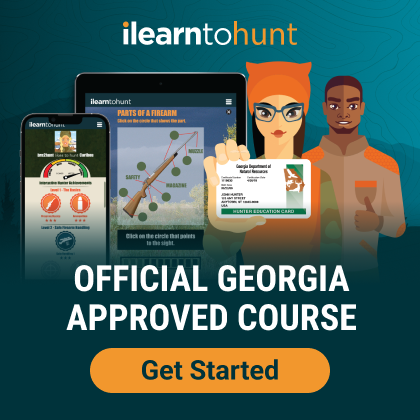 The Only IHEA-USA and Georgia DNR Approved Interactive Hunter Education Course!
Course Features
•    Interactive game style experience on any of your devices.
•    Move through the course at your pace.
•    Official state certification made easy and fun.
Get Certified in 3 Steps:
1.    Study and pass the $49.95 interactive course.
2.    Instantly print your temporary hunter education certificate.
3.    Go hunting!
---
Free Courses
Alternately, there are free options for Georgia residents to acquire hunter education certification:
Classroom Course
This option provides in-person instruction of the Hunter Education course. Find and sign up for a class.
---
Additional Information & Opportunities
Replacement Certificates
Anyone who completed a Georgia hunter education course and needs a replacement Hunter Education Certificate can visit www.gooutdoorsgeorgia.com and print one for free.
Free 3-Month Range Pass
Recent Georgia hunter ed grad? You have a free 3-month range pass! When you pass the Hunter Education Course, your certification card doubles as a free 3-month pass at any Department of Natural Resources shooting range.
Free Tree Stand Safety Course
If you hunt from a tree stand, please take the time to take a 15-minute free tree stand safety course. This course is offered by HunterCourse.
Bowhunter Education Course
Georgia resident hunters who wish to improve their bowhunting safety knowledge or are hunting in a state that requires bowhunter education now have the opportunity to complete bowhunter education online. Though bowhunter education in not required in Georgia, it is required in several states. Take the online bowhunter education course.
Driver's License Requirement 
Hunters age 16 and older must have a hunting license to hunt, unless they are resident hunters hunting either on their own land or lands of an immediate family member (see definition of immediate family member). If born on or after January 1, 1961, they must also have completed a Hunter Education Course. If a resident youth does not yet have a state-issued Driver's License, they will need a State of Georgia ID issued by the Department of Driver Services or a Georgia Instructional Permit in order to purchase their hunting license.