---
What Is NASP®?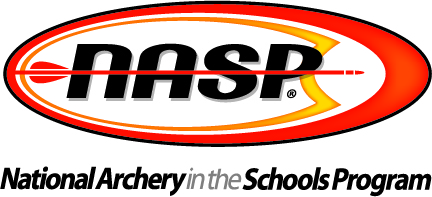 Since 2003, the National Archery in the Schools Program has been an approved physical education program in Georgia. Since its beginning in Kentucky in 2002, NASP® is now taught in 14,000 schools, with more than 18 million students having gone through the program.
Educators report that NASP® engages the unengaged; as students who drop out of school have indicated that they were not involved in extracurricular activities. This program is unique in that it crosses gender and strength lines, putting middle school children on an even playing field within their physical education class. In doing this, many children are able to succeed in a sport for the first time.
NASP® Notes
First and foremost, safety is a priority.
NASP® is oriented to 'target archery.'
Archery is a lifetime skill and is safe, wholesome, and non-controversial.
NASP® is suited for the typical 4th–12th grade physical education class.
NASP® courses are presented as a part of the in-school curriculum.
The course is designed to be at or above national curriculum standards and must be taught in school during the day as a part of the school curriculum. This assures that archery is offered to all students.
NASP® is the fastest growing shooting sport in history. It has a spotless safety record and surveys indicate wide spread support from teachers, parents, administrators, and students. We do what we do best-teach the lifetime skill of archery to every child in the school.
Why During School Hours?
From educator surveys, we have learned that teaching NASP® improves student concentration, motivation, engagement, and behavior. Some parents tell us that their child always wants to attend when archery is on the calendar. Of the students who take NASP® in school, 77% say that they had never touched a bow before. If NASP® were only an after-school or club program, certain students might never be able to have that opportunity to discover archery. Transportation issues alone could be a real barrier for some disadvantaged students.
We are glad that many NASP® schools ALSO have an after-school club. These clubs are often lead by parents with a faculty sponsor. However, an after-school only archery program (Scouts, 4-H, JOAD, etc.) cannot be called a NASP® participant and allowed to take part in NASP® tournaments. There have been many instances over the years, where this requirement has led to the adoption of NASP® for all the students in a particular school, which goes back to our guiding principles.
NASP®: Partners, Focus, Content
NASP® is a joint venture between state departments of Education and Wildlife. Several archery equipment manufacturers and organizations are also partners. The program promotes student education and participation in the life long sport of archery. The program's focus is to provide Junior Olympic Archery Development (JOAD)-style target archery training in K–12 physical education classes. The core content of the program covers archery history, safety, technique, equipment, mental concentration, and self-improvement. Before presenting the 2-week archery course, teachers undergo a certification process through NASP®.
Safety
The programs safety record has been perfect. There has not been a single accident in any of the schools while participating in the archery program. According to the National Safety Councils Injury Facts 2002 Edition, archery is more accident free than most common sports such as baseball/softball, basketball, football, golf, and tennis.
Press & Promotion
---
Training
If your school is interested in the NASP program please go to naspbai.org for training dates and more information. If you have any questions regarding NASP please email jennifer.davison@dnr.ga.gov.