---
What Is NASP®?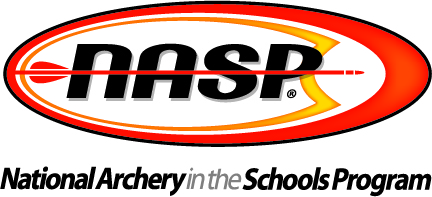 Since 2003, the National Archery in the Schools Program has been an approved physical education program in Georgia. Since its beginning in Kentucky in 2002, NASP® is now taught in 14,000 schools, with more than 18 million students having gone through the program.
Educators report that NASP® engages the unengaged; as students who drop out of school have indicated that they were not involved in extracurricular activities. This program is unique in that it crosses gender and strength lines, putting middle school children on an even playing field within their physical education class. In doing this, many children are able to succeed in a sport for the first time.
NASP® Notes
First and foremost, safety is a priority.
NASP® is oriented to 'target archery.'
Archery is a lifetime skill and is safe, wholesome, and non-controversial.
NASP® is suited for the typical 4th–12th grade physical education class.
NASP® courses are presented as a part of the in-school curriculum.
The course is designed to be at or above national curriculum standards and must be taught in school during the day as a part of the school curriculum. This assures that archery is offered to all students.
NASP® is the fastest growing shooting sport in history. It has a spotless safety record and surveys indicate wide spread support from teachers, parents, administrators, and students. We do what we do best-teach the lifetime skill of archery to every child in the school.
Why During School Hours?
From educator surveys, we have learned that teaching NASP® improves student concentration, motivation, engagement, and behavior. Some parents tell us that their child always wants to attend when archery is on the calendar. Of the students who take NASP® in school, 77% say that they had never touched a bow before. If NASP® were only an after-school or club program, certain students might never be able to have that opportunity to discover archery. Transportation issues alone could be a real barrier for some disadvantaged students.
We are glad that many NASP® schools ALSO have an after-school club. These clubs are often lead by parents with a faculty sponsor. However, an after-school only archery program (Scouts, 4-H, JOAD, etc.) cannot be called a NASP® participant and allowed to take part in NASP® tournaments. There have been many instances over the years, where this requirement has led to the adoption of NASP® for all the students in a particular school, which goes back to our guiding principles.
NASP®: Partners, Focus, Content
NASP® is a joint venture between state departments of Education and Wildlife. Several archery equipment manufacturers and organizations are also partners. The program promotes student education and participation in the life long sport of archery. The program's focus is to provide Junior Olympic Archery Development (JOAD)-style target archery training in K–12 physical education classes. The core content of the program covers archery history, safety, technique, equipment, mental concentration, and self-improvement. Before presenting the 2-week archery course, teachers undergo a certification process through NASP®.
Safety
The programs safety record has been perfect. There has not been a single accident in any of the schools while participating in the archery program. According to the National Safety Councils Injury Facts 2002 Edition, archery is more accident free than most common sports such as baseball/softball, basketball, football, golf, and tennis.
Press & Promotion
---
2022–2023 NASP® Training Workshops
Basic Archery Instructor (BAI) Workshops/NASP® Teacher Workshops
Workshops are open to interested teachers at existing NASP® certified schools and schools interested in becoming NASP® certified. NASP® may be taught in either physical education and/or agriculture classes. This workshop will provide the certification necessary for NASP® instructors. Most workshops are 8 a.m.– 4:30 p.m. Registration is required.
Upcoming BAI Workshops:
6/6/23
8 a.m. - 4:30 p.m.
Demorest
8 a.m. - 4:00 p.m.
Camp John Hope
8 a.m. - 4:00 p.m.
Camp John Hope
Please:
Bring plenty of water.
If a school's NASP bow and arrows are available, please bring them.
Advanced Archery Coaches Workshop
Upcoming dates TBA.
District Tournament Host Training Clinic
Upcoming dates TBA.
---
Academic Archer Program

Designed to promote and recognize academic excellence among Georgia's NASP® student archers.
A motivational tool available to any school that offers in-school NASP® archery instruction.
Designed to motivate NASP® student archers academically.
An optional program, available only to participating NASP® schools. Participation is a local decision and in accordance with existing local school policies. 
How is the program implemented?
All students that fully participate in an in-school NASP® archery class, and meet local academic criteria for recognition, are eligible to be entered for Academic Archer status.
NASP® BAI certified teachers/coaches can enter eligible students for Academic Archer status.
The Academic Archer program is independent from any/all forms of tournament participation
The designated Academic Archer should maintain a grade point average that establishes them well within existing school GPA criteria for high academic scholarship.
NASP® teachers/coaches should monitor archer's academic progress at each grading period to ensure that the archer remains eligible according to existing school GPA criteria for high academic scholarship. 
How are Academic Archers Recognized?
A certificate, suitable for framing, and an Academic Archer shoulder patch will be provided for each student archer designated as a NASP® Academic Archer.
Certificates and patches provided to each participating NASP® school by the Georgia DNR. 
Important Dates: Academic Archer Program
August–November: Georgia NASP® schools receive information and instructions for participating in the Georgia NASP Academic Archer program.
November–March 15: Certified NASP® BAI teachers/coaches register student archers for Academic Archer status and monitors students' academic progress.
March 15: Academic Archer Registration closes for Georgia NASP® schools.
March 16–April 15: Georgia DNR Hunter Development Program Staff prepares and delivers award packets to participating NASP® schools.
April–June: Participating schools include recognition of Georgia's NASP® Academic Archers as a part of their annual awards/honors ceremony.
More Academic Archer Information & News
Academic Archery Program Questions?
---
More NASP® Information & Teacher Resources
NASP® Teacher Time Sheet: View a sheet that will be helpful in documenting instructional hours, number of students taught and the number of bows purchased by students.   
Archery and Wildlife Programs (Tools for your School): Want to include an exciting archery activity at your next School Event? Reach out to the Georgia Wildlife Resources Division-Hunter Development Program about items like "Stick It Archery," "Hoverball Archery," "Standard Archery," and "Wildlife ID Kits." Find out more about each activity HERE. These items are available at no cost to you, but must be arranged in advance by calling 706-557-3355.
Archery Equipment Information
The basic archery kit contains the following:
10 right-handed Genesis bows
2 left-handed Genesis bows
5 targets
5-dozen aluminum arrows
1 backstop safety net
1 equipment repair kit
1 bow rack
This equipment is available to participating schools at a discounted rate. You may use the NASP website to find order forms.
Equipment News and Available Resources from NASP®:
Bow Storage Cases: Plano Archery Storage Packages are being offered at a discount to NASP® members.
Possible sources for financial assistance:
School Districts general fund: When the administrators are introduced to this program and  see how this is program has positively influenced students across the state in the following areas: attendance, behavior, self-esteem, confidence, on-task behavior, they have been finding the money.
21st Century Grants: www.ed.gov
Gear-Up Grants: www.ed.gov
GON Network
National Wild Turkey Federation
Ducks Unlimited 
Local Merchants sponsoring equipment with their logos on the equipment
After-School Alliances grants
Rotary Clubs: Their International Program has adopted NASP® as a great program to support: www.rotary.org
Sportsmans Clubs
BASS Clubs
Parents/Citizens involved in fund raising activities
Selling Candy, car washes, donations on quilts, donations on a bow
Local archery shop or Sportsmans Club hosting a 3-D or indoor tournament all proceeds going  to local school for purchasing archery equipment
School hosting an archery tournament for community
Grants that target disadvantages students
Special needs student funds from local district
Currently there is 67+ million dollars of grants that is available through various physical  education grants that directly fit this program & all school systems have grant writers that can assist with this. The disadvantage the grants may take 6 months to a year to be awarded.
Teacher Accolades
In a questionnaire from Georgia's Wildlife Resources Division to teachers, the following comments were made about the physical education course:
The kids loved it. There was an increase in student participation during the archery unit.
They (the students) loved it!
They (the students) were very excited about the program!   
Teachers Report
Educators enjoy NASP® as it adds diversity and interest to the classroom. 
Archery teaches a life skill to PE students, and the program complies with state and national PE standards.  
Teachers remark that the program within their school has improved school attendance, that student behavior is improved, that kids of all genders, sizes and abilities are having success, and that after-school archery clubs are forming. 
NASP® helps address the problem that educators need new, effective ways to engage and teach their students. Educators enjoy the NASP® program as it adds diversity and interest to the classroom. 
NASP® within Georgia is a wonderful program that introduces middle school kids to the sport of archery. This sport crosses gender and strength lines, putting middle school children on an even playing field within their PE class.