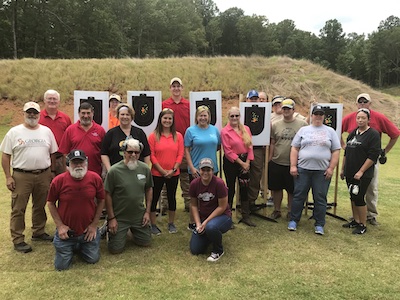 In 2017, the Hunter Development Program started "Give It A Shot" classes at manned Department of Natural Resources Shooting Ranges throughout the state. Since that time, nearly 300 first time or novice shooters have been introduced to safe firearm or archery equipment handling and proper orientation with either pistols, rifles, shotguns or archery equipment.
These classes are open to men and women age 12 years old and up, and will focus on those with little to no experience in operating a firearm or archery equipment. Upon completion, participants will understand, and can demonstrate, how to safely handle, operate, maintain and store a firearm or bow.
The Give It A Shot courses are designed to provide a hands-on introduction to a specific type of firearm (pistols, rifles or shotguns) or archery equipment. This course is approximately three hours long and includes classroom and range time learning to shoot both revolvers and semi-automatic pistols in the Handgun class, a specific model of shotgun at a moving target in the Shotgun class, a specific type of rifle with different sights at a stationary target in the Rifle class or specialized archery equipment which is adjustable to almost every shooter in the Archery Class. Students learn the basics of safe gun handling, parts and operation of the firearm, ammunition, shooting fundamentals, cleaning the firearms, and are provided recommendations for continued opportunities for skill development. Archery students learn safety, operation, overview of equipment, shooting fundamentals and care of equipment in the Archery class.
---
Upcoming Classes
Search for a Give It A Shot courses.
---
Attendees will only use firearms or bows provided by WRD (participants will not need or be able to use personal firearms at this event).
Be sure to register soon as space is limited for all classes! Registration is required. Visit www.GoOutdoorsGeorgia.com, and search for the event. If you do not currently have a "Customer Account" at GoOutdoorsGeorgia, you will need to create one prior to registering for the class.
For more information about Georgia shooting ranges, visit www.georgiawildlife.com/AllRanges.