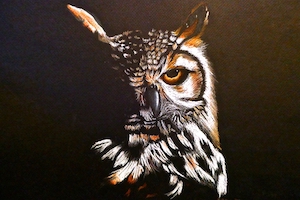 Hey, kids! Would you like your artwork to appear on the 13th Annual Youth Birding Competition T-shirt? How about winning a Michaels gift card for free art supplies? Then plan on taking part in the 2019 T-shirt Art Contest. Details to come this winter. Read about the 2018 contest and winners.
---
Rules
Note: The following details are for 2018. However, they provide a look at what's involved. These will be revised this winter for the 2019 contest.
All you need to do is draw or paint your favorite native Georgia bird on paper or sheet canvas (at least 8x10" but no larger than 11x17"), put it in a large envelope (flat, not folded), and mail or deliver by March 15, 2018 to:
GA DNR-WRD, YBC Art Contest
Attn: Linda May
2065 US Highway 278 SE
Social Circle, GA 30025
On a separate piece of paper, gently taped to the back of your artwork, be sure to include your name, school, age, grade level, mailing address, phone #, parent or teacher e-mail address, and the species name of the bird in your artwork. INCOMPLETE SUBMISSIONS MAY BE DISQUALIFIED.
Prizes
Grand Prize Winner gets a $100 Michaels Gift Card, and his/her artwork appears on the 2018 Youth Birding Competition T-Shirt. Three other winners will each receive a $50 Michaels Gift Card.
A winner will be selected from each of the following age categories:
Primary (Pre-K–2nd Grade)
Elementary (3rd–5th Grade)
Middle School (6th–8th Grade)
High School
The Grand Prize Winner will be determined from those four age category winners.
Other Contest Rules
The Youth Birding T-Shirt Art Contest is open to Georgia residents in Pre-K through 12th grade. Although participation in the Youth Birding Competition (YBC) on April 27 & 28, 2018 is encouraged, it is not required in order to submit artwork. Only one entry per person is allowed, and the submission must be the child's original artwork. The bird depicted must be native to Georgia (no exotic species please). Deep contrasting colors scan better for the T-shirt than faint pastels. Tracings and computer-generated artwork are not allowed. Select artwork will be displayed at the YBC Banquet on April 28, where winners will be announced and awards given (you must be a YBC team participant or an art contest winner to attend the banquet).
How to Get Artwork Returned After the T-Shirt Art Contest
YBC competitors may pick up their artwork after the April 28 banquet. Artwork entries from non-YBC competitors may be picked up at Charlie Elliott Wildlife Center through May 19 during normal business hours or returned in the mail ONLY IF you provide a self-addressed large envelope & proper postage (>6 first-class stamps). 
Tips for Winning
Make sure the bird species you draw or paint is wild and is native to Georgia.
If you're not sure if a species is wild and native to Georgia, consult a field guide to birds of the Eastern US. The species description and range map will tell you if the bird naturally occurs in Georgia or if it is introduced or exotic. Native resident and migratory birds qualify. Artwork of domesticated birds (like chickens, yellow ducks, peacocks, and parrots) as well as naturalized exotic species (like pigeons and starlings) will be disqualified.
Follow the contest rules regarding artwork size and shape.
Artwork must be at least 8x10" but no larger than 11x17" in size and on paper or sheet canvas (no frames). Please keep artwork flat—not folded—when mailing or dropping off at DNR's Wildlife Resources Conservation Center in Social Circle, GA (see address at bottom of this page).
Pay attention to the bird's features, and draw or paint them as accurately as possible.
If the judges can't tell what bird species is in your artwork, the picture won't work well on a t-shirt. Body proportions, beak shape, and field marks are important (especially for older art contest participants).
To show up well on a t-shirt, the bird needs to be the main focus of your artwork.
Simple backgrounds (especially appropriate habitats) are a plus, but your bird must stand out well. Put some thought into composition, context, and contrasting colors.
Deep contrasting colors scan best for a t-shirt.
Keep in mind that the winning artwork will be used on a t-shirt. Be sure to fill in your colors well so that bird can be seen well from a distance. Since colored pencils often appear faint, press down hard or go over your lines several times if you use them. 
---
Contact
For more information, please contact Linda May at 706-557-3226 or linda.may@dnr.ga.gov.
The winning child's artwork will appear on the next Annual Youth Birding Competition T-shirt, and they will receive a gift card for free art supplies.