To keep you and Georgia wildlife safe, enjoy watching wildlife from a safe distance. Touching wildlife can result in injury to yourself and possibly the need to euthanize the animal for rabies testing. In most cases, the best thing you can do for wildlife is to leave it alone. It is illegal to care for sick, injured, or orphaned wildlife in Georgia unless you have a permit from the Georgia Department of Natural Resources. Review the following information on what to do if you see sick, injured, or orphaned wildlife.
---
Sick or Diseased Wildlife
Like humans, wildlife are susceptible to illness and disease. Many of these diseases can be shared between wildlife, domestic animals, and humans. Learn about different disease, how to identify them, and how you can help. If you need assistance with sick wildlife, call 1-800-366-2661.
---
Injured Wildlife
Wildlife are extremely resilient and often heal from injuries on their own. In most cases, it is best to leave them alone and not assist. Injured wildlife may be more prone to defend themselves. You should not attempt to handle injured wildlife. Rehabilitating wildlife is difficult and can only be done by people permitted through the Georgia Department of Natural Resources.
---
Orphaned Wildlife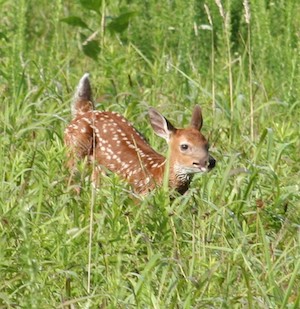 "If you care, leave them there."
It's common to encounter young wild animals on their own, especially in spring and summer. The adult has either left to forage or moved off to create a distraction in order to protect their young. In most cases, it's best to leave the animal alone. Wildlife has a much better chance at survival when they are not disturbed by humans.
Orphaned fawns: Fawns are hidden by the does for the first few weeks of their lives to avoid predators. It is not uncommon to see a fawn by itself. Does will leave fawns in protected areas, like a fenced yard, to help protect them from predators. Never pick up a fawn. You should only call a permitted wildlife rehabilitator when:

You are certain the doe is dead.
The doe does not return after 24 hours.
Need more advice? Call 1-800-366-2661.
Wildlife Rehabilitators