When do I need to conduct a survey?
Survey requirements vary depending on the type of project and required permits. Projects within the potential range of the Indiana bat (Myotis sodalis), gray bat (Myotis grisescens) or the northern long-eared bat (Myotis septentrionalis) may require a survey. Potential range maps can be found below.
For questions regarding surveys for specific projects, please contact Laci Pattavina at the USFWS Georgia Ecological Services Office at laci_pattavina@fws.gov.
Potential Ranges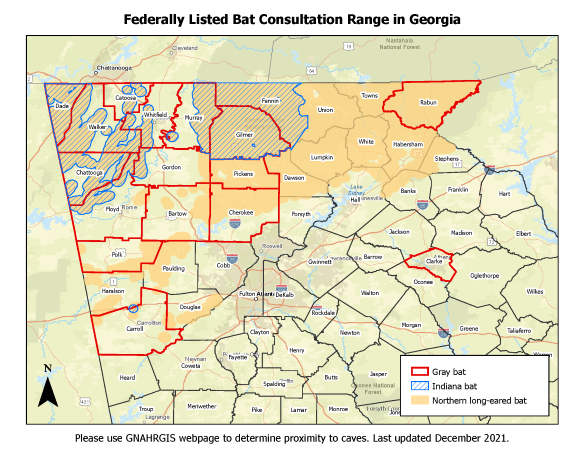 The U.S. Fish and Wildlife Service Georgia Ecological Services has refined the consultation ranges of both northern long-eared bat and Indiana bat using data and analysis collected from the University of Georgia through funding from Georgia Department of Transportation and Federal Highways Administration and additional technical support from the Georgia Department of Natural Resources and the U.S. Fish and Wildlife Service.
These ranges better reflect our knowledge of the species post-white nose syndrome throughout the state than the previous county-based ranges. These ranges will be updated as new information becomes available. There is currently not enough data to change the gray bat range to a more specific range similar to these, so the gray bat range will remain county based.
---
Who can conduct surveys in Georgia?
Any surveys where bats will be captured must be conducted by individuals with current state and federal scientific collecting/endangered species permits. Any bat survey report should contain scanned copies of a valid state and federal permits, if required, as part of the appendices.
---
How can I get a permit?
Permits will not be issued to individuals who cannot demonstrate extensive experience capturing, handling and identifying eastern bat species. Proper federal and state permits must be obtained before any bat surveys can be completed in Georgia. State permits will not be issued without first obtaining a federal permit. State permits will be issued before federal permits are secured for Georgia only if the permit requester has current federal permits for other states and has applied for a federal permit in Georgia.
The most common type of permit needed for endangered species surveys, including bat surveys, is a 3-200-55: Scientific Purposes, Enhancement of Propagation or Survival Permits (i.e., Recovery Permits) and Interstate Commerce Permit. From the ePermits homepage, select "Explore Permits". From the search page, select "Recovery / Interstate Commerce" under "Endangered Species". For additional information, contact the Region 4 USFWS Permit Office:
P.O. Box 49208
Atlanta, GA 30359
(404) 679-7070
permitsR4MB@fws.gov
---
How do I submit survey plans?
A bat survey plan should be submitted to the USFWS Georgia Field Office prior to bat surveys. Survey plans must be submitted to the USFWS Field Office as a pdf document. Emailing the survey plan, with "Bat Survey Plan for Review" in the subject line is the preferred method of receiving survey plans. Please allow 14 days for review of survey plans. Please submit bat survey plans to Laci Pattavina at laci_pattavina@fws.gov.
---
What survey guidelines should I follow?
The current Range-wide Indiana Bat Summer Survey Guidance and additional informative documents for Indiana bats and northern long-eared bats can be found here:
At least one federally permitted biologist must be present at any survey locale to correctly identify bats, supervise technicians, and/or to affix transmitters.
Tracking Target Species
Any Indiana bat (Myotis sodalis) or northern long-eared bat (Myotis septentrionalis), i.e., males, females, and juveniles, captured should be fitted with a radio transmitter, if it meets the minimum weight requirements in the most current Range-wide Indiana Bat Summer Survey Guidance. Please notify via phone or email the USFWS Georgia Field Office and Katrina Morris at GA DNR once transmitters are affixed and telemetry studies begin for Myotis sodalis or septentrionalis.
Bats should be tracked for at least 7 days. Early cessation of telemetry requires a phone call to USFWS Georgia Field Office and Katrina Morris at GA DNR as a courtesy, so that we may choose to continue telemetry.
Voluntary Tracking Efforts
Although little brown bats (Myotis lucifugus) are not federally protected, capture rates in Georgia are very low. If able, we recommend tracking any Myotis lucifugus that are captured within the entire state and any Perimyotis subflavus that are captured within North Georgia. They should be fitted with a radio-transmitter for every site they are captured. Any bat fitted with a transmitter must meet the minimum weight requirements in the most current Range-wide Indiana Bat Summer Survey Guidelines.
Please contact Katrina Morris at GA DNR if these bats are captured so that we can assist with telemetry efforts.
Netting efforts should continue even if a target species is captured. Because of the lack of survey data in Georgia, all sites should be surveyed for the required survey period even if target species are captured.
Transmitter frequency ranges should be included in the submitted survey plan.
Banding
All Myotis bats captured in Georgia should be banded with the exception of eastern small-footed bats (Myotis leibii). All Myotis bats should be banded with a 2.9mm band. All tri-colored bats (Perimyotis subflavus) should be banded with a 2.4 mm band. Only GA bands provided by GA DNR should be used for banding. Bands should be applied (and removed) using one of the commercially available bat banding tools. Porzana 2.9 mm and 2.4 mm bands are available for use by permitted surveyors in Georgia. Please contact Katrina Morris to obtain bands.
Species from Feces
GA DNR requests that feces be collected for genetic confirmation of rare and difficult to identify bat species. We request guano collection from any Myotis sodalis, Myotis lucifugus, Myotis austroriparius (in the Myotis septentrionalis range), or any questionable M. septentrionalis or M. septentrionalis found in the coastal plain of Georgia. You can obtain kits by contacting Northern Arizona University or request a small number of kits free of charge by contacting Katrina Morris.
Decontamination
All surveyors are required to follow current USFWS white-nose syndrome decontamination protocols and advisories. Current guidelines.
Submitting specimens to the GA Museum of Natural History (GMNH)
In the event that any deceased bats are encountered during field surveys, intact specimens should be provided to the GMNH. Please contact Nikki Castleberry, Assistant Curator of Vertebrate Collections for submission guidelines.
Injured bats that are likely to recover may be transferred to a licensed rehabilitation facility. Please visit the list of licensed rehabilitators to find a Rabies Vector Species (RVS) Rehabilitator in your area.
---
How do I submit my survey data?
Summer survey mist netting data should be submitted to Georgia DNR after completion of each field season. Please use this template for submission of capture data. Instructions for data entry are provided on an additional sheet in the excel document. Please submit completed survey data to Katrina Morris.
Survey data should be submitted to USFWS according to the guidance included in the federal permit.