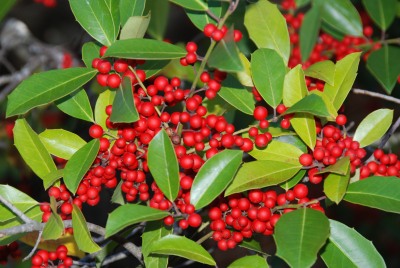 By Terry W. Johnson
Although it is November, it's not too soon to begin making preparations for the holiday season. Now, I am not talking about adorning your yard with Christmas decorations. That can wait until next month.

What I am saying is that it is not too early to begin collecting the items that can be incorporated into a holiday bird wreath.

Wreaths are one of the oldest and most recognizable symbols of Christmas. Their use can be traced to 16th Century Germany. During the Christmas season, evergreen wreaths were hung on homes, churches and other buildings to celebrate the birth of Christ.

While Christmas wreaths remain popular to this day, wreaths can now been seen decorating homes throughout the year. Wreaths are now used to recognize all four seasons. They are also hung to celebrate Thanksgiving Day, Independence Day, Mother's Day, St. Patrick's Day, as well as any other holiday. 

In recent years, bird wreaths have made their appearance in a growing number of yards across the state. These wreaths are attractive and offer backyard birds a variety of food items. Although most of these wreaths appear during the Christmas holiday season, they can be used any time during the year.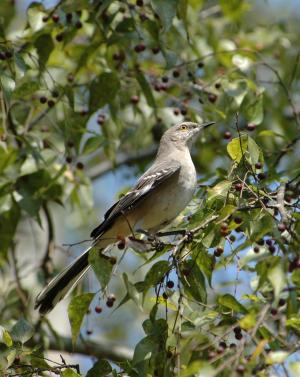 Holiday bird wreaths are easy to construct. You can either make a wreath specifically with birds in mind, or recycle a holiday wreath after Christmas. Either way, they are fairly simple to make and are an attractive addition to any home landscape.

If you are going to construct a holiday bird wreath from scratch, begin by purchasing a wreath form and a roll of floral wire. Forms can also be cut out of a piece of corrugated cardboard. The bottom of a pizza delivery box works just fine for this purpose.

Next, snip off a few boughs from a cedar, pine or other evergreen tree and attach them to the wreath form using the floral wire. After you complete this task, you will have the basic form of a typical evergreen wreath.

Should you decide to create a nontraditional wreath, cover a form with twigs, dried leaves, dried grass and any other natural materials that suit your fancy. In fact, the only limitation on what you use to create such a wreath is set by the depth and breadth of your imagination.

If you don't want to go to the bother of making a wreath, simply recycle the wreath hung on your door or wall during Christmas.

The thing that makes a bird wreath different from traditional wreaths is that a bird wreath is decorated with food items instead of colored lights and ornaments.

November is a perfect time to begin looking for the natural decorations that will be used to beautify a bird wreath. While they are abundant now, with each passing week, many items such as seed pods and the bright yellow, orange, burgundy and scarlet leaves blanketing the forest floor will begin to disappear. 

Since all of the birds that visit a bird wreath eat seeds, fruits or berries, it is always a good idea to focus on collecting them. Once you begin searching for things to put on a bird wreath, you will quickly discover that many of them come attractively wrapped in uniquely shaped seed pods. For example, the shapes of milkweed, tulip poplar and redbud pods are artistically stunning and contain seeds that birds will eat.

Bright red berries are great additions to any bird wreath. The list of native plants that retain their shiny red berries well into the winter include flowering dogwood and possumhaw, as well as American and yaupon holly. Since the color red has long been associated with the Christmas season, incorporating them into a wreath helps give it a definite holiday flare.

Acorns also make good additions to a bird wreath. The easiest way to attach them is by trimming off acorn-bearing branches and wiring them to the wreath form.

If you didn't mow down zinnias, cone flowers and other seed-producing flowers after they withered and died, add bunches of them to the wreath. Goldfinches and other birds will dine on the seeds hidden in the brown seed heads.

Small pine cones, such as those found on shortleaf pines, can be smeared with peanut butter or dipped in melted suet and attached to your wreath. For a special touch, after the cones have been coated with suet or peanut butter, roll them in birdseed.

The plume-like seed heads of native grasses also work well on bird wreaths. Even the fluffy seed heads of goldenrod can be used.

Cultivated fruits, nuts and berries are always great additions to bird wreaths. Raisins, grapes, unsalted peanuts (in their hulls), crabapples, cranberries, slices of oranges and apples work well.

I hope you get the idea: Don't be afraid to try as many different kinds of foods as you like.

Once you have completed your wreath, hang it on an arbor, shepherd's hook or other support and sit back and watch. Over time you will learn which foods different species of birds prefer. However, don't give up on a food if it isn't eaten right away. Some foods, such as holly berries, are primarily eaten late in the winter when other sources of food have been exhausted.

Making a holiday bird wreath is a great project to tackle with your children or grandchildren. Collecting the items used in the wreath gets them outside and away from the electronic devices that often occupy too much of their time. It will also heighten their understanding that birds eat more than the foods offered at backyard feeders. In addition, it will provide them with a way to express their creativity and hopefully heighten their appreciation of the wild plants and animals we share the world with.

One final note, if you make a bird wreath, please share a photo of it with me. I would like to see what you used to create one of these novel wreaths.

Terry W. Johnson is a former Nongame program manager with the Wildlife Resources Division, a backyard wildlife expert, and executive director of TERN, the friends group of the Nongame Conservation Section. (Permission is required to reprint this column. Contact rick.lavender@dnr.ga.gov.) Learn more about TERN, The Environmental Resources Network, at http://tern.homestead.com. "Out My Backdoor" columns archive.