Georgia Has an Amazing Fish Fauna
Georgia ranks third in the nation for the number of native freshwater fishes; only Alabama and Tennessee have more species. About 265 species are considered native to the state, which includes 245 described species and 20 species that have not yet been formally described by ichthyologists. An additional 19 species are not native to the state but have been introduced through intentional stockings or accidental releases. Georgia's freshwater fishes are arranged in 27 different families of fishes, which are groups of closely related species. In order of decreasing diversity, the most diverse Georgia freshwater fish families are the minnows (Cyprinidae), darters (Percidae), sunfishes (Centrarchidae), suckers (Catostomidae), and Catfishes (Ictaluridae). Five described species are endemic to the state of Georgia and occur nowhere else in the world: Ocmulgee shiner (Cyprinella callisema), Altamaha shiner (Cyprinella xaenura), Chattahoochee sculpin (Cottus chattahoochae), Etowah darter (Etheostoma etowahae) and Cherokee darter (Etheostoma scotti). Dozens more are nearly endemic and have the majority of their range within the boundaries of our state.
Georgia's fishes are amazing not just for their taxonomic diversity, but also for their fascinating variety of sizes, color patterns, life histories, and behaviors. On the puny side are the least killifish (Leptolucania ommata) and pygmy killifish (Heterandria formosa), both which max out around an inch in length and several species of pygmy sunfishes (Elassoma spp.) which grow only slightly longer. At the opposite end of the extreme is Georgia's longest fish, the Atlantic sturgeon (Acipenser oxyrinchus), which may exceed 8 feet and is sometimes observed leaping out of the water in large coastal rivers. Atlantic sturgeon are representative of a group of highly migratory species that migrate hundreds or perhaps thousands of miles between feeding and breeding areas; other highly migratory species include American eels, striped bass, several species of shad, and mountain mullet. While most of our fishes do not make these epic journeys to complete their life cycle, movement between feeding, breeding, and refuge habitats has been shown to be important for even small species like minnows and darters. For example, the trispot darter (Etheostoma trisella) is known to migrate from large river feeding habitats into the tiniest headwater streams for spawning in late winter and early spring.
The diversity of breeding habitats and behaviors exhibited by Georgia fishes is amazing, but also important to know for management and conservation efforts. Most fishes are broadcast spawners that lay large numbers of eggs and invest no-parental care in their offspring, but there are many interesting variations and exceptions to this pattern. For example, male bluehead chubs and river chubs are known to construct a spawning nest by moving gravel and small pebbles into a mound. While this nest-building behavior is fascinating in its own right, these nests also provide spawning habitat for a variety of other minnow species. These nest-associating minnows are some of the most colorful fishes in our streams and are easily observed from stream banks in late spring to early summer throughout central and North Georgia. Another interesting example is catfishes (family Ictaluridae), which nest under cavities formed by rocks and logs. Male and female catfishes may contribute to parental care, which includes nest site preparation, fanning of the eggs with their fins, and guarding of the eggs and larvae.
The video shows a group of Alabama shiners (Cyprinella callistia) exhibiting spawning behavior around a rock crevice. The males are the brightly colored animals with bluish-white patches on their heads and red tails. The white patches are formed by tubercles (tiny horns or bumps composed of Keratin), which may function in combat between rival males and in signaling reproductive status to females. A few females (with a gold lateral stripe but without tubercles or distinctive coloration) can be seen darting into the crevice. The male and female will swim along the crevice and deposit eggs and sperm (you cannot see this in the video, but it is probably going on). Other males may also make solo runs along the crevice in an attempt to fertilize some of the eggs. Crevice spawning, which is characteristic of minnows in the genus Cyprinella, is considered an adaption to reduce predation on eggs.
There are many other ways in which Georgia's fishes are amazing.
---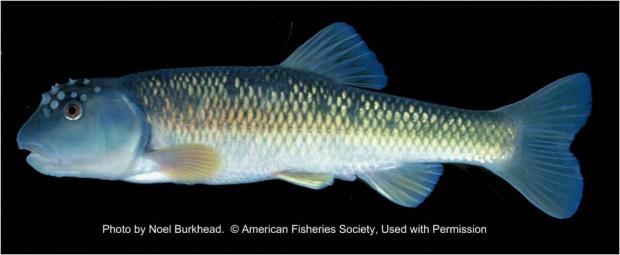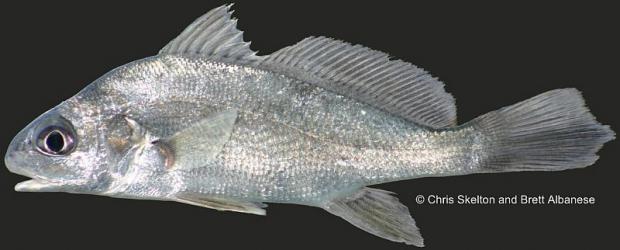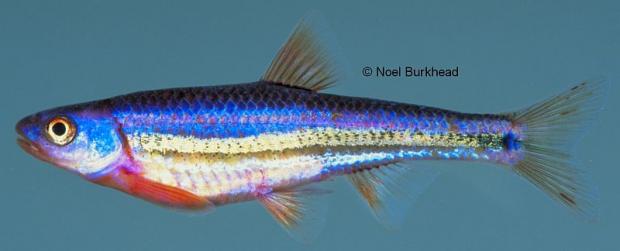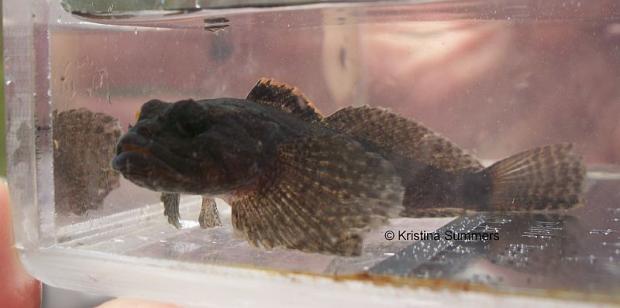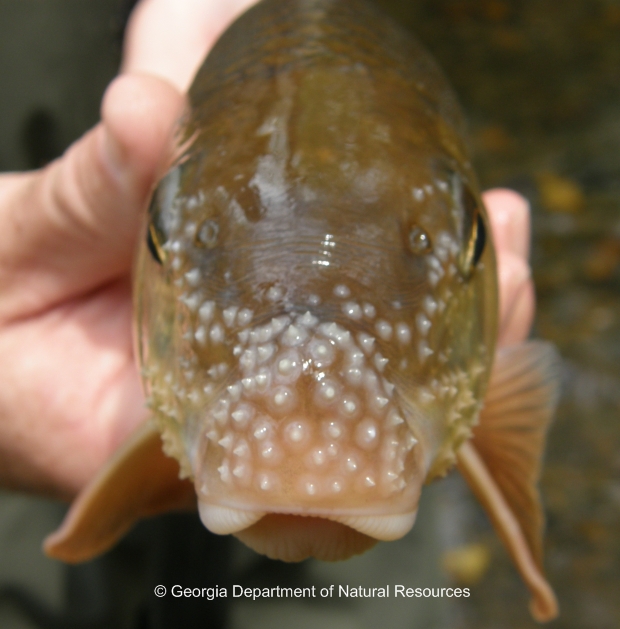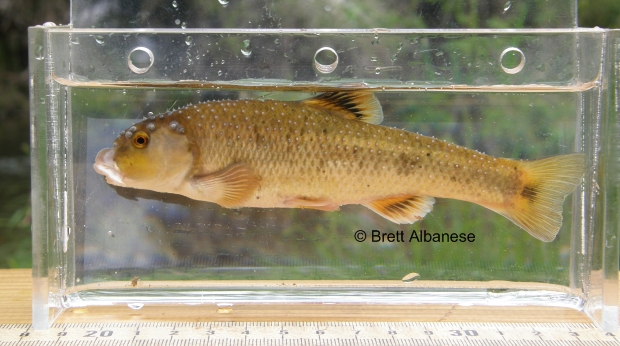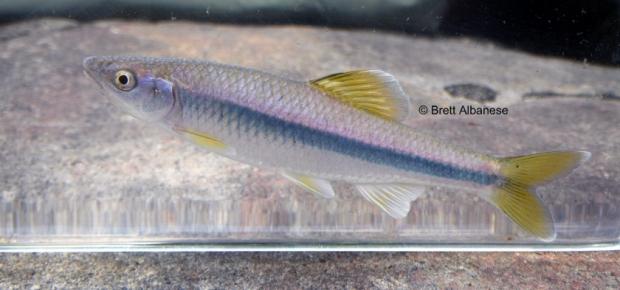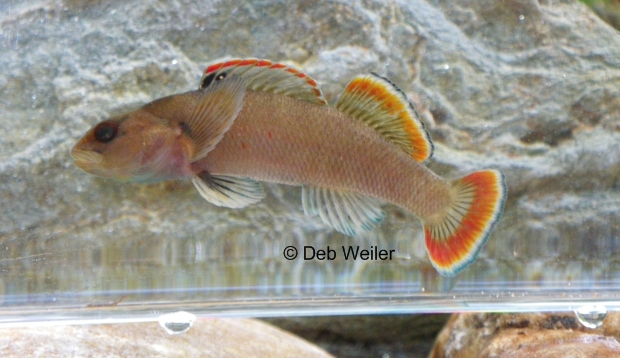 ---
Threats to Aquatic Habitat
Georgia's aquatic species are threatened by a myriad of factors, including urbanization, poor land use practices associated with historic and current agricultural and forestry operations, reservoirs, chemical pollution, and invasive species. Below we explain each of these factors and provide recommendations on how to minimize their impact on aquatic resources. The purpose of this discussion is not to impugn any one land use type or economic sector but to show that we are all connected to aquatic habitat degradation and that we can all help to correct and prevent these problems.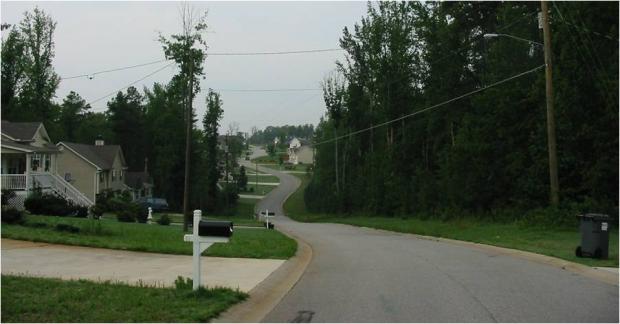 Runoff from impervious surfaces (e.g., sidewalks, storm drains, rooftops,etc.) carries toxic chemicals into streams and causes erosive flooding that degrades stream habitat quality.
Urbanization
Urbanization negatively affects stream ecosystems in a multitude of ways. Impervious surfaces (e.g., rooftops, parking lots, roads) accelerate runoff after rainfall events, leading to erosive flooding and degradation of instream habitats. This runoff also carries many pollutants into streams. Because water rapidly runs off, instead of infiltrating into the groundwater more slowly, there is less water available in streams during low-flow periods. The effect of urbanization on aquatic communities has been well documented by scientists, who have discovered that some fish species are becoming extirpated (i.e., locally extinct) at very low-levels of impervious cover (< 5% of watershed area). Everyday citizens can help by minimizing or avoiding the use of fertilizers and pesticides in their yards, maintaining vegetated buffers along streams, and by constructing a rain garden to promote infiltration of runoff on their property.
Runoff from unimproved roads often flushes undesired sediments into stream, threatening water quality and aquatic species. 
Sedimentation is one of the leading reasons for declines in many aquatic species. Sediment runoff from agricultural fields, developing areas, and unimproved roads all contribute large volumes of sediment into adjacent streams and rivers, in turn covering stream bottoms where many fish spawn and all mussels live. This video shows the sediment runoff into a small creek in Early County, Georgia during a 10 minute storm in August 2007. Notice the colorless water from the naturally forested watershed upstream of the drainage ditch in contrast to the brown color of water washing in to the creek from the ditch.
Agriculture & Forestry
Agricultural activities also threaten fish populations, primarily through run-off of sediment, nutrients, and pesticides. These impacts are most extreme in areas where cultivation occurs right up to stream banks or when livestock are allowed access to streams for watering. Sedimentation, which can also result from forestry practices and construction activities, is an almost ubiquitous problem in Georgia streams. Suspended sediment decreases water clarity and interferes with sight-feeding and other visually oriented fish and mussel behaviors (e.g., territorial displays, lures used by mussels to attract their fish hosts). Sediment also fills in the spaces between larger rocks, which eliminates habitats used for spawning, feeding, and shelter. Nutrient pollution from such sources as fertilizer runoff and animal waste can lead to algal blooms, which in turn may affect water clarity, oxygen levels, and also the condition of other aquatic plants that are beneficial to fishes (e.g., Riverweed). Farmers can help protect streams by maintaining wide forested buffers along creeks and streams. There are also many technical assistance and cost-sharing programs that can help farmers implement best management practices, such as restricting cattle access to streams.
Cattle access point (lower left) contributes to sedimentation and nutrient pollution (from Cattle waste). This site also lacks an adequate riparian forest buffer, which provides shade, filtering of runoff, wildlife habitat, and a food source (leaves) for aquatic insects. There are now many programs to help farmers reforest stream buffers with native plants and to develop off-channel watering areas for cattle.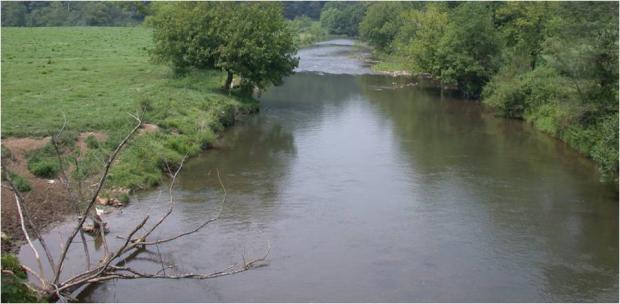 Depending upon the size of the operation and its location, forestry operations may negatively impact streams and their fishes. Mechanisms of impact include sediment runoff associated with vegetation removal, soil disturbance from forestry equipment, and stream bank destabilization from poorly designed stream crossings. Additionally, the removal of trees from sensitive habitats such as cypress swamps, floodplains, or other wetlands contributes to sedimentation and increases in water temperature. The Georgia Forestry Commission has developed best management practices to minimize the impacts of forestry on streams.
Reservoirs
Because most of our native riverine aquatic species cannot survive or complete their life-cycles in deep or slow-flowing habitats, large amounts of habitat are destroyed when reservoirs are created. Reservoirs and smaller impoundments (e.g., farm ponds) also fragment stream ecosystems and prevent the movement of animals between upstream and downstream habitats. Such movements are necessary for spawning migrations and feeding, and for colonization when disturbances (e.g., drought, chemical spill, etc.) eliminate upstream populations. Depending upon their size and outflow structure, reservoirs may also change the quality and quantity of downstream waters. 
One of the best ways to minimize the impacts of reservoirs on native fishes is to adopt water conservation practices that prevent the need for additional reservoirs. American Rivers released a report in 2008 showing how water efficiency measures decrease the need for additional reservoirs and also conserve significant taxpayer dollars. If water demand cannot be met entirely through efficiency measures or existing water withdrawals, then there are ways to minimize the impacts of new reservoirs.
For example, expanding the size of an existing reservoir is usually much less detrimental than building a new reservoir. Similarly, locating a reservoir in a stream with existing downstream reservoirs will fragment fish populations less than building new reservoirs in free-flowing systems. Some new reservoirs are off-channel, meaning that they are built on smaller tributary streams but are filled by pumping water from a larger river. Although it may be more costly to filter water during floods, filling these reservoirs during high flow events is much less harmful than removing water during normal or low-flow periods. 
As part of an effort to develop a Habitat Conservation Plan for federally listed fishes, a technical committee developed a protocol for evaluating water-supply reservoir options for effects on imperiled stream fishes. This protocol helps identify the relative impacts of different reservoir locations on rare aquatic species. Our program also routinely reviews proposals for new reservoirs and can help applicants identify areas that would be least detrimental to state and federally listed fishes. Early coordination with us and other resource agencies will usually result in a better process and outcome for the applicant and for natural resources.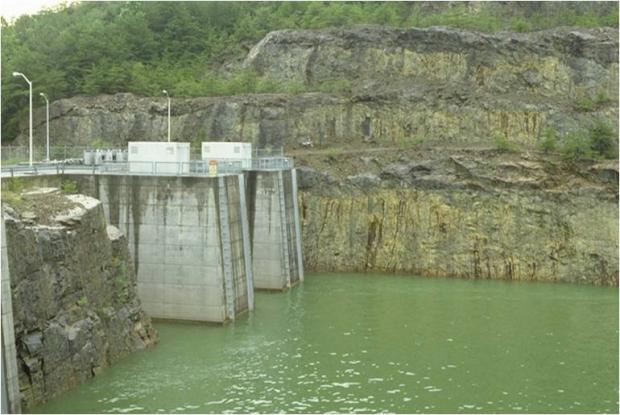 While dams and reservoirs may be important for flood control, water supply, hydropower, and recreation, they also negatively impact many of our native fishes. Impacts include loss of free-flowing stream habitat, barriers to migration, and alteration of downstream water quality.
Chemical Pollution
The effect of pesticides and other chemicals originating from industrial sources may cause lethal effects in rare cases but more frequently are associated with subtle effects which may ultimately have similar consequences. Chemicals may reduce immune system function making aquatic species more susceptible to diseases. Pesticides often affect the nervous system and cause altered behavior which can make an aquatic species less effective at feeding or hiding from predators. A number of chemicals have been shown to interfere with the endocrine system of fish, which regulates reproduction, growth, development and other activities. 'Intersex' fish, usually male fish with eggs in their gonads, have been found in rivers across the country, including Georgia, often near treated sewage effluents. These 'feminized' males can have reduced ability to reproduce successfully.
Invasive Species
Non-native organisms may negatively affect Georgia's native fishes. Potential impacts include direct predation, competition for habitat and food, and disease. These factors are a natural part of aquatic ecosystems and our fishes have adapted to them throughout their shared evolutionary history with other native species. However, our fishes may be poorly adapted to these factors when they are associated with introduced species. For example, native bullhead catfishes (Ameiurus spp) maintain healthy populations in the face of flathead catfish predation where both species naturally occur, but suffer large population declines where flathead catfish have been introduced. Another important impact of non-native species is the loss of unique genetic diversity when closely related species interbreed. For example, the red shiner (Cyprinella lutrensis) readily hybridizes with other shiners in the genus Cyprinella where it has been introduced outside of its native range.
Once a non-native species has become established, it is very difficult or perhaps impossible to eradicate them. Thus, strategies to prevent the accidental introduction of non-native species are critical to the protection of our native species. Anglers, recreational boaters, and aquarists have a very important role to play in preventing additional introductions and the further spread of species that have already been introduced. Please visit our invasive species page to learn more about what you can do. You can also click on the icons below for more information.
---
Fish Conservation
The Wildlife Conservation Section has primary responsibility to meet the conservation, research and monitoring needs for Georgia's nongame fishes; game fishes are managed by our Fisheries Management Section. We maintain a large database of fish distribution records, which is used in a variety of ways to protect fishes and aquatic habitats. For example, we routinely provide recommendations on how to minimize impacts associated with development, road construction, reservoir building and other activities that can negatively affect fish populations. Our data is also used to prioritize areas for conservation and to monitor trends of individual species. We provide our database records to NatureServe, which compiles data for global assessments of conservation status.
We are constantly updating the database with new information from fish survey and monitoring efforts. Our staff conducts targeted surveys for rare fishes, focusing on species that have not been extensively surveyed in the past or that are critically imperiled. Most of our data, however, comes from our collaborators such as the DNR Stream Survey Team, The Georgia Museum of Natural History, and a community of ichthyologists and fish biologists working in the state. There is also a procedure to request site-specific rare species information.
Protecting fish populations requires watershed-level conservation efforts, which is well beyond the capacity of our program. Protecting Georgia's fishes depends upon the cooperation and effort of local governments, conservation groups, state and federal agencies, and everyday citizens. Some of the groups we routinely work with include but are not limited to the United States Fish and Wildlife Service-Ecological Services Office, Conservation Fisheries, Georgia Cooperative Fish and Wildlife Research Unit,  The Georgia River Network, The Georgia Aquarium, The Tennessee Aquarium Conservation Institute, The United States Forest Service, The Nature Conservancy, The Robust Redhorse Conservation Committee, The Joseph W. Jones Ecological Research Center and a variety of corporate partners and smaller watershed groups. One of our main roles, then, is to provide information about rare species that will facilitate conservation efforts by these groups. In addition to the information in our database, we have also developed species profiles for all of Georgia's state and federally protected fishes.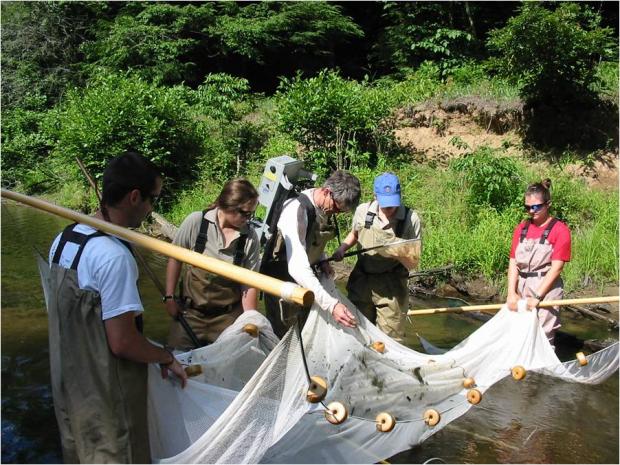 Funding for Research & Conservation of Nongame Fishes
Our program supports research on Georgia's freshwater fishes. The United States Fish and Wildlife Service, through Section 6 of the U.S. Endangered Species Act, provides us with funding to meet conservation and research needs for federally protected fishes. For example, we have provided funds to scientists at the University of Georgia to carry out annual monitoring of federally protected fishes and their habitats in the Etowah and Conasauga River system since 1998. Another major source of support is the State Wildlife Grant Program, which can also be used to meet conservation needs for state protected and other high priority species identified in Georgia's Wildlife Action Plan. The Fishes of Georgia Atlas, which provides range maps and photos of Georgia Freshwater fishes, is an example of a project that was supported by a State Wildlife Grant. Other research projects and reports are posted on our Publications and Reports page. Almost all of the projects funded through the Wildlife Conservation Section require matching funds or cost-share from a non-Federal source. Our most important source of match is the Wildlife Conservation Fund, which is based solely on donations through the purchase of Nongame Licence Plates, the Give Wildlife a Chance Income Tax Checkoff, and a private fundraising event (Weekend for Wildlife).
Georgia's Fish Fauna is Threatened by Many Factors
While Georgia's fish fauna is very diverse, it is also highly threatened. Fifty-eight species are considered imperiled and are on Georgia's protected animal list; 9 of these fishes are also protected under the U.S. Endangered Species Act. Five species are considered extirpated from the state and may no longer occur in Georgia waters: Gulf sturgeon (Acipenser oxyrinchus desotoi), the spotfin chub (Erimonax monachus), harelip sucker (Moxostoma lacerum), yellowfin madtom (Noturus flavipinnis, and the ashy darter (Etheostoma cinereum). Our fish fauna is threatened by a variety of factors including urbanization, poor land use practices associated with historic and current agricultural and forestry operations, reservoirs, chemical pollution, and invasive species.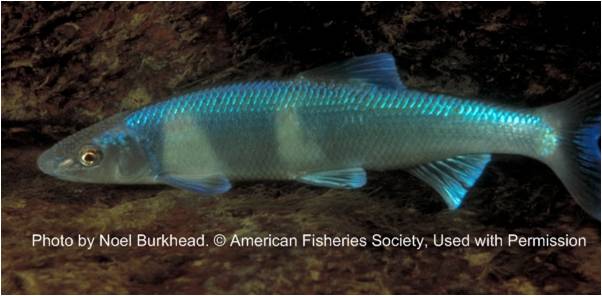 ---
Identifying Georgia's Fishes
Our Fishes of Georgia Photo Gallery on Flickr has many photos that can be viewed on your computer or with the Flickr app on your smartphone.
Our diverse fish fauna makes fish identification in Georgia challenging, even for ichthyologists. If you have a good photograph of a fish that you caught or observed underwater, you can usually get an approximate identification using a combination of photos and range maps. The Fishes of Georgia Atlas is an excellent source for range maps and will ultimately have photos of all of Georgia's freshwater fishes and many coastal species as well. Our Rare Species Profiles page has photos and species descriptions of all state protected fishes. While it is illegal to capture these species without a permit, they are encountered by researchers and fish watchers in some of our clear North Georgia rivers. An electronic copy of a Field Guide to Fishes of the Conasauga River system can be downloaded.
---
Taxonomic Resources
Boschung, H. T. and R. L. Mayden. 2004. The fishes of Alabama. Smithsonian Institute, Washington. 736pp.
Etnier, D. A. and W.C. Starnes. 1993. The fishes of Tennessee. Univ. Tennessee Press, Knoxville. 681pp.
Jenkins, R. E. and N. M. Burkhead. 1993. Freshwater fishes of Virginia. Am. Fish. Soc., Bethesda. 1079pp.
Marcy, B. C., Jr., D. E. Fletcher, F. D. Martin, M. H. Paller and M. J. M. Reichert. 2005. Fishes of the middle Savannah River Basin: with emphasis on the Savannah River Site. The University of Georgia Press. 462 pp.
Mettee, M. F., P. E. O'Neil and J. M. Pierson. 1996. Fishes of Alabama and the Mobile Basin. Oxmoor House, Birmingham. 820pp.
NANFA photo gallery. (David Neely has a folder of Georgia fishes, with excellent images)
Rhode, F.C., R.G. Arndt, J.W. Foltz, and J.M. Quattro. 2009. Freshwater fishes of South Carolina. The  University of South Carolina Press, Columbia. 430pp.
Ross, S.T. 2000. Inland fishes of Mississippi. Mississippi Department of Wildlife, Fisheries, and Parks, Jackson. 624pp.
Skelton, C.E. and B. Albanese 2006. Field guide to fishes of the Conasauga River system. U.S. Forest Service Manual, Gainesville, GA. 251pp.
Straight, C.A., B. Albanese, and B.J. Freeman. Fishes of Georgia Website, Georgia Museum of Natural History. Available from: http://fishesofgeorgia.uga.edu (website under construction).
Williams, J.D., D. A. Neely, S.J. Walsh, and N.M. Burkhead. 2007. Three new percid fishes from the Mobile Basin drainage of Alabama, Georgia, and Tennessee. Zootaxa 1549: 1–28.
---
This page was last updated December 5, 2017. If you encounter problems with this page or would like to suggest changes or additions, please send an email to brett.albanese@dnr.ga.gov.