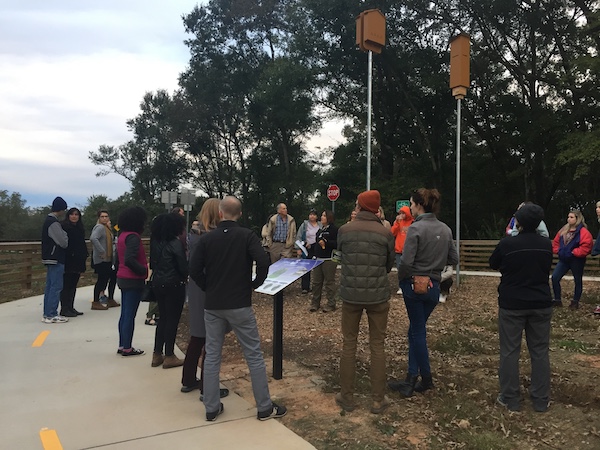 2022
Manomet
$2,999 to create shorebird guides and banded-bird stickers to help steward programs inform the public about priority species on Georgia beaches and other coastal sites.
Friends of Hard Labor Creek State Park
$3,000 to build observation platforms along a 2.5-mile nature trail at the park near Rutledge, improving access to wildlife-viewing areas.
Friends of Lost Creek Forest
$3,000 to add trail markers and kiosks to improve access and outreach at Lost Creek Forest, a public, old-growth slope forest in Thomasville.
Lavonia Elementary School
$3,000 for row cover and native trees and plants to expand Betty's Garden, a project at the Lavonia school focused on pollinators.
Environmental Education Alliance
$3,000 to provide wildlife cameras and support materials for teacher-and-student projects to investigate local wildlife at schools and ed centers.
Phinizy Center for Water Sciences
$2,400 to help buy materials needed to repair the Sunrise Pond boardwalk at Phinizy Swamp Nature Park near Augusta.
 
---
2021
Georgia Wildlife Federation
$3,000 for signage and outreach for an expanded wildlife trail through prescribed fire demonstration areas, along with signage for a swamp trail at the federation's Alcovy Conservation Center in Covington.
Prater's Mill Foundation
$2,938 to build two wildlife viewing platforms along Coahulla Creek nature trails at Prater's Mill Historic Site in Varnell.
Wolf Creek Trout Lily Preserve
$2,844 for trail upgrades to improve access at the Grady County preserve near Cairo.
Georgia Audubon
$1,996 for signage to help visitors spot and identify birds at Constitution Lakes Park in Atlanta.
Georgia 4-H Foundation
$3,000 to install two wildlife viewing gardens featuring native plants at the Burton 4-H Center on Tybee.
ABAC Foundation
$2,097 to replace the boardwalk in a nature study area at Abraham Baldwin Agricultural College in Tifton.
---
2020
Friends of Oatland Island Wildlife Center
$2,160 to buy and install commercial-grade binoculars near a freshwater pond and wood stork rookery on the Savannah center.
One Hundred Miles
$2,445 for outreach regarding responsible viewing of sea turtles and shorebirds and involving turtle-friendly flashlights and communications.
Lavonia Elementary School
$2,970 to create a monarch and pollinator garden of native plants at the school as part of a community project.
City of Watkinsville
$2,885 to add bat houses, native plant plots and programs focused on bats at the city's Harris Shoals Park.
Atlanta Audubon
$3,000 to build a tower for chimney swifts at Atlanta's Freedom Park, as well as to help create signage and hold events that relay the importance of conserving native birds.
Friends of Panola Mountain State Park
$3,000 to replace all boards on a popular viewing platform that overlooks a granite outcrop at the Stockbridge park.
---
2019
DeKalb County Recreation, Parks and Cultural Affairs
$3,000 for a mountain trail viewing platform with interpretive signage at Davidson-Arabia Mountain Nature Preserve.
Georgia 4-H Foundation
$3,000 for a project adding a platform, viewing scope and interpretive panels overlooking a marsh pond at 4-H Tidelands Nature Center on Jekyll Island.
Georgia Wildlife Federation
$3,000 to repair and upgrade a boardwalk and observation platform in a Piedmont tupelo river swamp at the Alcovy Conservation Center near Covington.
Gwinnett County Department of Community Services
$2,198 to develop monarch and related pollinator habitats with signage and outreach at Gwinnett parks.
Southeastern Trust for Parks and Land
$2,832 to build a chimney swift tower and kiosks that highlight area wildlife of concern at Talking Rock Nature Preserve in Pickens County.
Satilla Riverkeeper
$2,000 for adding at Burnt Fort landing near Woodbine a Satilla River Water Trail kiosk and signage exploring the trail and key species and habitats along the river.
---
2018
Athens-Clarke County
$2,823 for bat boxes and signage on the Oconee Rivers Greenway as part of larger bat-awareness project.
One Hundred Miles
$2,865 for extensive outreach encouraging responsible wildlife viewing on St. Simons-area beaches.
Golden Triangle Resource Conservation and Development Council
Award: $2,750 for kiosks featuring rare species information along a Spring Creek boardwalk in Colquitt.
The Amphibian Foundation
$2,628 for signs interpreting rare salamander propagation at an Atlanta park, the foundation's home base.
Okefenokee Swamp Park
$2,163 to build a wildlife viewing platform at the Waycross park.
Coastal Georgia Audubon
$1,773 to design and add interpretive signs highlighting shorebird habitat at key viewing sites along the state's coast.