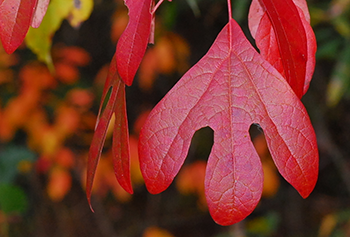 By Terry W. Johnson
Each autumn I look forward to Mother Nature blanketing the landscape surrounding my middle Georgia home with an explosion of bright yellow, orange and red leaves. Some of the larger deciduous trees such as sweetgum, yellow poplar, maple and hickory contribute the vast majority of the color seen in this majestic quilt. However, to me the colorful leaves displayed on some of the smaller trees and shrubs are just as beautiful. In fact, when the splashes of color they offer are interwoven into the quilt, the whole scene becomes even more spectacular.
One tree that provides these colorful blotches is the sassafras (Sassafras albidum). Each fall the 3- to 7-inch leaves of the sassafras turn varying shades of red, purple, orange and yellow.
Since it grows throughout the state, sassafras also offers those living in south Georgia the opportunity to enjoy brilliant color, in spite of the fact that autumn's variety is not as widespread in their neck of the woods as in north Georgia. This opportunity is enhanced because the tree often grows along fencerows and forest edges where it can be readily seen.
While sassafras prefers to grow in sandy, rich, well-drained soils it does tolerate dry soil types. It grows in both partial shade and full sun.
If you are familiar with sassafras, it should come as no surprise that the Arbor Day Foundation rates it one of the top fall trees in the U.S., or that it was named the Georgia Native Plant Society's Plant of the Year in 2013.
Sassafras is a small, native, long-lived deciduous tree. The species grows rapidly and reaches heights of 20 to 60 feet. Kentucky has the largest known sassafras, a 100-foot-tall giant with a trunk 24 feet in circumference.
I call the sassafras a "discovery plant." The reason why: I have found that when youngsters or oldsters are properly introduced to it, many discover just how fascinating nature can be. Let me explain. If people unfamiliar with sassafras are encouraged to examine the tree's leaves, they will quickly notice they are not like the leaves of most other trees: They grow in three distinctly different shapes, three-loped and egg- and mitten-shaped. Most folks like the mitten-shaped leaves best. When asked if all of these leaves are alike, they are often astonished to learn there are both right and left-handed mittens.
Next, I ask if they can find four- and five-lobed leaves (these are the rarest sassafras leaves of all). And occasionally they will spot a few.
It should also be pointed out that, for some unknown reason, lobed leaves are most often on the top branches of the tree. As a sassafras gets older, the variation in the shapes of leaves it produces declines to the point where eventually all of its leaves are egg-shaped.
Another characteristic is that male and female flowers appear on separate trees. Although the flowers are short-lived and far from showy, they do have a pleasing lemony scent and provide food for pollinators.
Every couple of years or so, female sassafras trees bear a crop of pea-sized, dark-blue oval fruits borne on red stalks. Sassafras fruits and berries are not ranked very high for their food value to wildlife. However, they are eaten by a variety of critters such as downy and pileated woodpeckers, quail, wild turkeys, northern flickers, eastern kingbirds, mockingbirds, phoebes, gray catbirds, warblers, yellow-bellied sapsuckers, squirrels, black bears, rabbits and others.
Wildlife including beavers, rabbits and white-tailed deer also dine on the tree's bark, leaves and branches. Sassafras also is a host plant for the beautiful spicebush swallowtail butterfly.
Native Americans prized sassafras; to them the tree was a veritable medicine chest. They used all of its parts to concoct medicines for an amazing array of maladies from coughing, diarrhea and sore eyes to wounds, rheumatism, scarlet fever and measles. They also used sassafras leaves to season food and the wood to build canoes.
Upon learning of the reported therapeutic benefits of the plant, early colonists and explorers were quick to promote the merits of the plant in Europe. In 1565, Sir Francis Drake returned to port with a load of sassafras roots. During the early 1600s, Sir Walter Raleigh further fueled demand for sassafras when he exported it to England from the Virginia Colony. Upon hearing of the medicinal and culinary values of sassafras, the demand for what at the time many thought was a wonder drug soared. By the 1600s, sassafras exports from Georgia and other New World colonies rated second in value only to tobacco.
To this day, sassafras is used as a spice in Cajun and other recipes. It is also used to make candy, perfumes and drinks.
Many of us grew up drinking sassafras tea brewed from sassafras roots. This practice waned during the 1960s and early 1970s when it was reported that the chemical safrole found in sassafras caused cancer in laboratory rats. These findings prompted the U.S. Food and Drug Administration to ban the use of safrole in foods and beverages (including our beloved root beer).
Research conducted since by Lawrence Berkeley National Laboratory has suggested that the original research was flawed. Their studies concluded that a person could drink sassafras tea every day for the rest of their lives and still not equal the dosages administered to rats during the original study. It was determined that safrole does not cause cancer. It seems that safrole breaks down into the compound 1-hydroxysafrole in the digestive system of rats, and this chemical is carcinogenic. In comparison, in humans the conversion of safrole into 1-hydroxysafrole does not occur in our digestive tracts.
In spite of these findings, the FDA has yet to lift the ban on safrole although it is present in a variety of other popular spices such as cinnamon, black pepper and nutmeg.
Oh, well: Perhaps one day will be pick up the paper and read that the FDA has ruled we can once again drink sassafras tea and root beer brewed with sassafras root extract without fear of contracting cancer.
Of course, for generations frayed sassafras twigs were used to brush teeth. Many of us have chewed sassafras twigs simply to enjoy their root beer-like flavor.
Unfortunately, the sassafras tree faces an uncertain future. It seems they are being infected with a fungal disease called laurel wilt. This fungal disease, deadly for plants in the laurel family, is spread by the redbay ambrosia beetle. Once infected, sassafras trees quickly die. Sadly, there is no known cure for a tree infected with laurel wilt.
In the meantime, as we say goodbye to this fall's color extravaganza, I hope you have enjoyed the show, and maybe even took note of the vibrant addition provided by the lowly sassafras.
I have a few small sassafras trees growing in my yard and I have to admit, if it were not for their bright red and orange foliage, my little corner of Mother Nature's autumn quilt would not be as stunning.
Terry W. Johnson is a retired Nongame program manager with the Wildlife Resources Division and executive director of The Environmental Resources Network, or TERN, friends group of the division's Nongame Conservation Section. (Permission is required to reprint this column.) Learn more about TERN, see previous "Out My Backdoor" columns, read Terry's Backyard Wildlife Connection blog and check out his latest book, "A Journey of Discovery: Monroe County Outdoors."