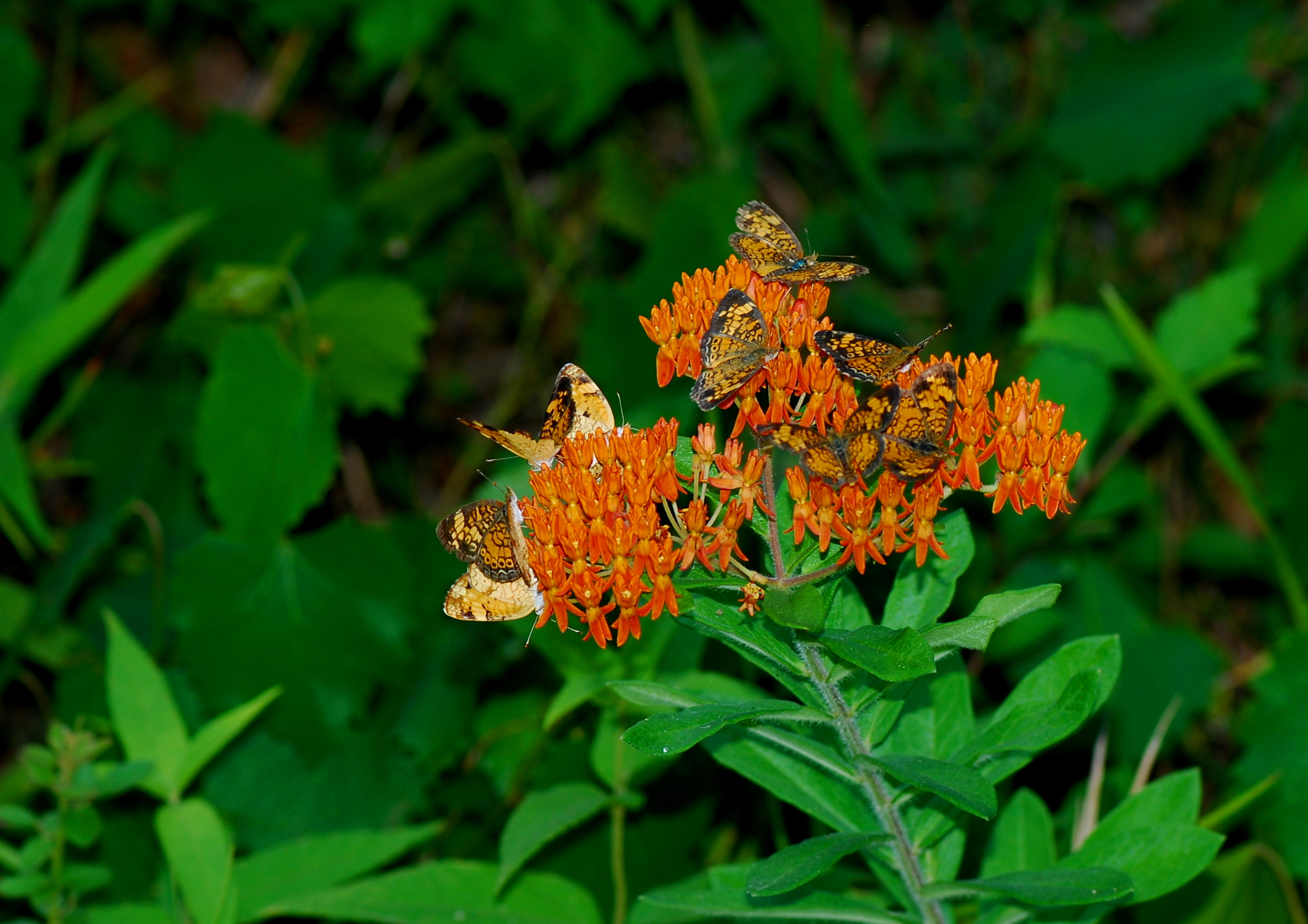 Butterfly Weed by Terry W. Johnson
The most popular outdoor activity in the U.S. is not hunting, fishing, birding or hiking – it's gardening. In fact, that interest is apparently growing. This trend is reflected in the news that in 2021 the Burpee seed company sold more seeds than at any time in the company's nearly 150-year history.
The wave of gardening's popularity also has been sweeping across Georgia. One way gardeners in our state are expanding their efforts is by adding native plants to their home landscapes.
Realizing the multiple benefits of incorporating native plants, the Georgia Department of Natural Resources' Wildlife Conservation Section, the Garden Club of Georgia and The Environmental Resources Network, or TERN, friends group of the Wildlife Conservation Section, added a category called Gardening with Native Plants to the highly popular Community Wildlife Project. (Membership in the Garden Club is not required to take part in the project. More on how to in a minute.)
Why native plants? They add almost indescribable beauty to home landscapes while also providing food and cover for a plethora of wild animals. Including a handful of native plants can begin restoring biodiversity in yards and neighborhoods alike. Over time, as you add more varieties of native plants, you will see a corresponding increase in the diversity and abundance of wildlife such as birds, butterflies, moths, invertebrates and other animals. They, in turn, will enhance the wildlife watching opportunities you can enjoy without leaving your home.
Now that spring is here, gardening activities are in full swing across all of Georgia's 159 counties. But as we go about planting zinnias, hollyhocks, cosmos, petunias and other ornamental favorites, we need to find room for native plants. Here are the names of just four of the scores of native plants prized by our wildlife neighbors and deserving a place in our gardens and yards.
Coneflower (Echinacea sp.) – This perennial produces an abundance of showy flowers from summer into the fall. It also provides nectar and pollen for a wide variety of native pollinators. In my backyard, common buckeye butterflies and bumblebees are among the pollinators that regularly visit the coneflower's blooms. After the petals have dropped to the ground, American goldfinches and other seed-eating birds dine on the seeds plucked from the coneflower's prickly seed heads. As with many other native plants, hummingbirds visit coneflower blossoms, eating tiny insects drawn to the blossoms.
Blazing Star (Liatris sp.) – Another showy native perennial that will add color to any garden is blazing star. From summer into fall, the plant displays spikes of delicate, feathery, violet flowers. The nectar found in these blooms is a favorite of the monarch. The flowers also attract a variety of other butterflies including painted lady, cloudless sulphur and gulf fritillary. Why, even ruby-throated hummingbirds visit the plant's tiny blossoms.
Butterfly weed (Asclepias tuberosa) – This handsome perennial does not deserve to be called a weed. As a member of the milkweed family, it is a host plant for monarch butterflies. Its clusters of orange flowers also provide nectar for a number of other native pollinators such as the pearl crescent butterfly, ruby-throated hummingbird and scores of native bees, wasps and beetles.
Oakleaf hydrangea (Hydrangea quercifolia) – This shrub grows 6 to 8 feet tall and wide. It bears eye-catching clusters of small white blossoms. In the autumn, its distinctive leaves are literally breathtaking. In fact, the shrub's autumn foliage rivals that displayed by many of the better-known shrubs and trees that set the Georgia countryside ablaze each fall.
There are many other native plants that are also attractive to us and wildlife. Many of them are extremely valuable  to native animal populations, often because compared to ornamentals, they harbor more of the insects that a vast majority of birds and other animals need to survive.
It is a simple fact that when the number of ornamental plants in a yard increases there is a decline in the native animals. Conversely, in yards where gardeners plant a variety of native plant species, there are more species of native animals. The reason for this is that many of these critters depend on insects for food. However, often birds and other wildlife do not prefer the insects found on ornamental plants.
A study conducted in Pennsylvania found that native plants produce four times more insect biomass than exotic plants. This is important to animals such as songbirds. This is because 96 percent of all terrestrial birds eat insects at some time in their life. Insects are also important to other backyard inhabitants such as invertebrates (including spiders and predatory bees) as well as amphibians such as frogs and toads, and reptiles like green anoles.
If you think you would like to bring native plants home to your yard but don't know what to plant, I suggest you obtain the free application for certifying your yard in the Community Wildlife Project's Gardening with Native Plants category. In addition providing more motivation for planting natives, the application is a great reference, providing gardeners an annotated list of dozens of native trees, shrubs, vines and herbaceous plants that can be grown in Georgia backyards. Next to each name on the list you will find a key to information explaining just how wildlife uses that species.

When you scan the application, I think you may be surprised how many of these native plants are already growing just outside your backdoor. If a plant is not on your yard list, just add it. When the number of Georgia native plants reaches at least 12 species, return the application and your yard will be certified. It is as simple as that.
But once you earn certification, don't stop there. Make it a goal to add additional native species to your landscape! For a copy of the free application, go online to the Garden Club of Georgia or contact DNR's Wildlife Conservation Section Office in Forsyth, (478) 994-1438 or melissa.hayes@dnr.ga.gov.        
Terry W. Johnson is a retired Nongame program manager with the Wildlife Resources Division and executive director of The Environmental Resources Network, or TERN, friends group of the division's Nongame Conservation Section. (Permission is required to reprint this column.) Learn more about TERN, see previous "Out My Backdoor" columns, read Terry's Backyard Wildlife Connection blog and check out his latest book, "A Journey of Discovery: Monroe County Outdoors."