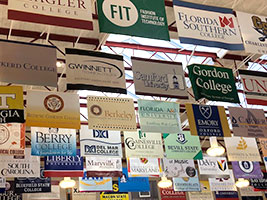 Dropping off your new college or university freshman for the first time can be an overwhelming and expensive experience for the whole family. There are so many details to work out.
Not only are your moving your child and their stuff into a new space, but you have to think about how far from home you are and where you and your family are going to stay overnight to get your kid settled and prep yourself for goodbye.
Many college and university towns have limited overnight accommodations available for parents and families when there is a big event campus on. Freshman Orientation, Move-In Days, Sporting Events, and Alumni Reunions, are only a few of the ongoing campus life occasions that may require overnight hotel stays. Finding more than one room or ajoining rooms for an entire family or group can be a challenge. If you find yourself in this situation, consider turning to your local Georgia State Park for convenient and affordable solutions for traveling families. Georgia State Parks provide a plethora of activities to keep the family relaxed and entertained as well as providing a place to share in the momentum of the college experience.
One college mom posted on George L. Smith State Park's Facebook page, "We 'kidnapped' our GSU sophomore this weekend, for a quick escape/bday visit. We stayed in one of your cabins, with 3 teenagers, 2 parents, and 2 dogs. It was perfect! So convenient to campus, and it had all the amenities we needed to cook our own meals and relax for two days. I highly recommend this option to other GSU families!"
To find a state park close to the college or university of your choice we suggest looking at locations online. A simple search "closest Georgia State Park to XYZ University" will yield some great results based on your locations. A few combinations to consider include the following:
---
Georgia Southern University, Statesboro (www.georgiasouthern.edu) and George L. Smith State Park, Twin City (GaStateParks.org/GeorgeLSmith)
---
University of Georgia, Athens (www.uga.edu) and Fort Yargo State Park, Winder (GaStateParks.org/FortYargo)
---
Columbus State University (www.columbusstate.edu) and F.D.Roosevelt State Park, Pine Mountain (GaStateParks.org/FDRoosevelt) or Florence Marina State Park, Omaha(GaStateParks.org/FlorenceMarina)
---
Young Harris College, Young Harris (yhc.edu), University of North Georgia, Dahlonega (ung.edu) and Vogel State Park (GaStateParks.org/Vogel)
---
Kennesaw State University, Kennesaw (kennesaw.edu) and Red Top Mountain State Park (GaStatePark.org/RedTopMountain)
---
For a list of colleges and universities in Georgia look online or go to collegesimply.com/colleges/georgia. To learn more about Georgia State Parks and Historic Sites, visit our website at GaStatePark.org and check out our map for the closest location to your college or university.
---