There are three species of whales known as "right whales." The North Atlantic Right Whale, Eubalaena glacialis, can be found anywhere in the north Atlantic and primarily along the eastern seaboard, using coastal Georgia as a calving ground. It is Georgia's state marine mammal. The Southern Right Whale, Eubalaena australis, is found in the southern hemisphere. The North Pacific Right Whale, Eubalaena japonica can be found in the Bering Sea. Right whales are mysticetes, or baleen whales. Other mysticetes include humpback, gray and bowhead whales.
Right whales received their name from whalers who began calling them "right whales" because they were the right whales to kill—easy to harpoon and yielding large amounts of valuable oil for fuel and soap as well as baleen for umbrellas and corsets. Measuring 45- to 55-feet-long, adults can weigh nearly 70 tons.
North Atlantic Right Whales are now one of the rarest of all the great whales. The current population is estimated to be around 400 individuals. Right whales were listed as endangered in 1970 and are protected by disturbance and injury by the Endangered Species Act of 1973, the Marine Mammal Protection Act of 1972, and the Georgia Endangered Wildlife Act of 1973.
---
Federal Rules Designed to Protect Right Whales
Additional Information
---
Northern Right Whale Recovery
Biologists with the Wildlife Conservation Section actively participate in right whale conservation efforts through the U.S. Implementation Team for the Recovery of the Northern Right Whale, a group of experts from various fields charged with optimizing conditions in the southeastern U.S. for the recovery of the species. Biologists have been conducting aerial surveys for right whales off Georgia's coast and have implemented a detailed educational program targeting commercial shipping ports and military installations such as Naval bases in Georgia and Florida.
The Nongame Program works closely with the state of Florida and the National Marine Fisheries Service to implement North Atlantic right whale recovery efforts -efforts deemed necessary to effect right whale recovery (removal from the Endangered Species list).
We also work with port authorities, harbor pilots, Navy, Coast Guard, and Corps of Engineers to protect right whales from collisions with ships. One of our biologists currently serves as Chair of the North Atlantic Right Whale Southeastern U.S. Recovery Plan Implementation Team.
How you can help: Be wise stewards of Georgia's natural environment, and enjoy the out-of-doors responsibly. If boating off Georgia's coast from December to April, follow the Guidelines for Navigating in Right Whale Waters outlined below. Report right whale sightings by calling 800-272-8363.
Guidelines for Navigating in Right Whale Waters
Mariners operating in the coastal waters of the southeastern United States in winter should instruct all watches to look for right whales. Right whales will appear as black objects I the water and may just barely clear the surface. Look for a "V" shaped spout created when the whales breathes. During night and other periods of reduced visibility, vessel operators should use the slowest safe speed to reduce the risk of collisions with rights whales.
If you should see a right whale, slow your vessel and take measures to avoid the whale(s). Do not assume the whale will move from your path. Record the latitude and longitude, LORAN coordinates, or identify the location of the whale with regard to buoys. Note the direction of the whales travel. Notify authorities and other ships in the area immediately. In Georgia, call 800-272-8363 (1-800-2-SAVE-ME); in Florida, call 888-404-3922 (1-888-404-FWCC).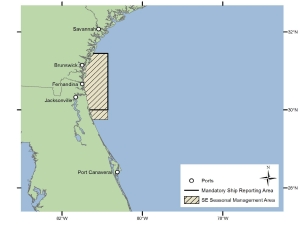 Ship Strike Reduction Regulation Information
A regulation established by National Marine Fisheries Service and National Oceanic and Atmospheric Administration (NOAA) requires all vessels over 65 feet to slow down to a speed of 10 knots or less while traveling in designated critical habitat areas along the U.S. Atlantic coast.
The regulation specifies that the months from November to March be considered the calving season. The warm coastal waters off the Georgia coast are the only known calving grounds for these rare aquatic giants. The whales are especially vulnerable during this time due to heavy traffic in Georgia's shipping lanes, where they tend to be found. It has been estimated that the loss of one or two female right whales a year could lead to extinction of the species within a century.
A newly developed compliance guide for the right whale ship strike reduction rule is now available online.
The guide can be found in these locations: