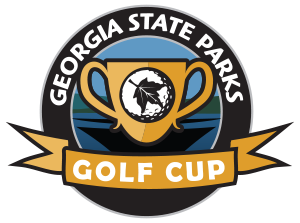 Date: February 25 - June 3, 2023
Event Type: 4-person scramble
Cost: $500 Per Team
The 3rd annual State Park Golf Cup is back with more giveaways, an enhanced championship event, and incredible course conditions. The Cup is a 2 part golf tournament being played throughout the Georgia State Park golf courses. The format is a 4-Person Scramble with each team choosing a course they would like to play. Play one or play them all! Choose from 8 courses throughout the state. Each course has a different event date.
Each golf course will host their own separate tournament and crown a champion team. The winning team of each event will qualify for the Championship Event. Lodging is provided for each winning team. The 8 qualifying teams will then play in a two-day Championship Tournament to compete to put their names on the Golf Cup. The championship tournament is detailed in the Championship Event Tab below.
Note: Registration for this event is closed.
---
---
Share your Golf Cup photos with us
---
Event Dates
Course
Date
Georgia Veterans Memorial Golf Course
Georgia Veterans State Park, Cordele
2/25/2023

View Leaderboard

Team

Richard Deese

Jay Dukes

Silas Ford

John Hughes

Scores

| 1 | 2 | 3 | 4 | 5 | 6 | 7 | 8 | 9 | Front | 10 | 11 | 12 | 13 | 14 | 15 | 16 | 17 | 18 | Back |
| --- | --- | --- | --- | --- | --- | --- | --- | --- | --- | --- | --- | --- | --- | --- | --- | --- | --- | --- | --- |
| 4 | 4 | 3 | 4 | 3 | 3 | 3 | 4 | 3 | 31 | 4 | 3 | 3 | 4 | 4 | 4 | 3 | 3 | 4 | 32 |

Team

Barry Wilson

Hansley

Scores

| 1 | 2 | 3 | 4 | 5 | 6 | 7 | 8 | 9 | Front | 10 | 11 | 12 | 13 | 14 | 15 | 16 | 17 | 18 | Back |
| --- | --- | --- | --- | --- | --- | --- | --- | --- | --- | --- | --- | --- | --- | --- | --- | --- | --- | --- | --- |
| 4 | 4 | 3 | 4 | 3 | 3 | 3 | 4 | 4 | 32 | 4 | 2 | 4 | 5 | 4 | 4 | 3 | 2 | 4 | 32 |

Team

Webster

Webster

Webster

Dorminey

Scores

| 1 | 2 | 3 | 4 | 5 | 6 | 7 | 8 | 9 | Front | 10 | 11 | 12 | 13 | 14 | 15 | 16 | 17 | 18 | Back |
| --- | --- | --- | --- | --- | --- | --- | --- | --- | --- | --- | --- | --- | --- | --- | --- | --- | --- | --- | --- |
| 3 | 4 | 3 | 5 | 2 | 4 | 3 | 4 | 3 | 31 | 4 | 3 | 3 | 4 | 4 | 4 | 4 | 3 | 5 | 34 |

Team

Wilson

Swain

Wilson

Addison

Scores

| 1 | 2 | 3 | 4 | 5 | 6 | 7 | 8 | 9 | Front | 10 | 11 | 12 | 13 | 14 | 15 | 16 | 17 | 18 | Back |
| --- | --- | --- | --- | --- | --- | --- | --- | --- | --- | --- | --- | --- | --- | --- | --- | --- | --- | --- | --- |
| 4 | 4 | 3 | 4 | 3 | 4 | 2 | 4 | 4 | 32 | 4 | 3 | 4 | 4 | 4 | 4 | 4 | 3 | 4 | 34 |

Team

Epperson

Pannell

Davis

Hastings

Scores

| 1 | 2 | 3 | 4 | 5 | 6 | 7 | 8 | 9 | Front | 10 | 11 | 12 | 13 | 14 | 15 | 16 | 17 | 18 | Back |
| --- | --- | --- | --- | --- | --- | --- | --- | --- | --- | --- | --- | --- | --- | --- | --- | --- | --- | --- | --- |
| 5 | 4 | 4 | 4 | 2 | 4 | 3 | 3 | 4 | 33 | 4 | 3 | 4 | 4 | 4 | 4 | 3 | 3 | 4 | 33 |

Wallace Adams Golf Course
Little Ocmulgee State Park, Helena
3/4/2023

View Leaderboard

Team

Austin Mosely

Dale Sheffield

Chris Seabolt

Rusty Mosely

Scores

| 1 | 2 | 3 | 4 | 5 | 6 | 7 | 8 | 9 | Front | 10 | 11 | 12 | 13 | 14 | 15 | 16 | 17 | 18 | Back |
| --- | --- | --- | --- | --- | --- | --- | --- | --- | --- | --- | --- | --- | --- | --- | --- | --- | --- | --- | --- |
| 4 | 3 | 4 | 2 | 3 | 4 | 4 | 3 | 4 | 31 | 3 | 3 | 2 | 3 | 3 | 3 | 3 | 2 | 4 | 26 |

Team

Brad Harrison

Tyler Harris

Patrick Jordan

Rusty Waters

Scores

| 1 | 2 | 3 | 4 | 5 | 6 | 7 | 8 | 9 | Front | 10 | 11 | 12 | 13 | 14 | 15 | 16 | 17 | 18 | Back |
| --- | --- | --- | --- | --- | --- | --- | --- | --- | --- | --- | --- | --- | --- | --- | --- | --- | --- | --- | --- |
| 4 | 3 | 4 | 3 | 3 | 3 | 3 | 3 | 4 | 30 | 3 | 4 | 2 | 4 | 3 | 4 | 3 | 2 | 4 | 29 |

Team

Clae Wynn

Chris Wynn

Kendall Edwards

Justin Abercrombie

Scores

| 1 | 2 | 3 | 4 | 5 | 6 | 7 | 8 | 9 | Front | 10 | 11 | 12 | 13 | 14 | 15 | 16 | 17 | 18 | Back |
| --- | --- | --- | --- | --- | --- | --- | --- | --- | --- | --- | --- | --- | --- | --- | --- | --- | --- | --- | --- |
| 3 | 3 | 4 | 3 | 3 | 4 | 5 | 2 | 3 | 30 | 4 | 3 | 3 | 3 | 3 | 4 | 4 | 2 | 4 | 30 |

Team

Joe Andrews

Parker Agnew

Brandon Eubanks

Todd Sichelstiel

Scores

| 1 | 2 | 3 | 4 | 5 | 6 | 7 | 8 | 9 | Front | 10 | 11 | 12 | 13 | 14 | 15 | 16 | 17 | 18 | Back |
| --- | --- | --- | --- | --- | --- | --- | --- | --- | --- | --- | --- | --- | --- | --- | --- | --- | --- | --- | --- |
| 4 | 3 | 4 | 2 | 4 | 3 | 4 | 3 | 3 | 30 | 4 | 3 | 2 | 4 | 4 | 3 | 4 | 2 | 5 | 31 |

Team

Matt Bell

Tyler Woodruff

Jody Neil

Lawson Saulter

Scores

| 1 | 2 | 3 | 4 | 5 | 6 | 7 | 8 | 9 | Front | 10 | 11 | 12 | 13 | 14 | 15 | 16 | 17 | 18 | Back |
| --- | --- | --- | --- | --- | --- | --- | --- | --- | --- | --- | --- | --- | --- | --- | --- | --- | --- | --- | --- |
| 4 | 3 | 4 | 3 | 3 | 4 | 4 | 2 | 3 | 30 | 4 | 3 | 3 | 3 | 4 | 4 | 4 | 3 | 4 | 32 |

Team

Cary Page

Blaine Lowe

Mitchel Nabb

Adam Yancey

Scores

| 1 | 2 | 3 | 4 | 5 | 6 | 7 | 8 | 9 | Front | 10 | 11 | 12 | 13 | 14 | 15 | 16 | 17 | 18 | Back |
| --- | --- | --- | --- | --- | --- | --- | --- | --- | --- | --- | --- | --- | --- | --- | --- | --- | --- | --- | --- |
| 4 | 3 | 4 | 3 | 4 | 4 | 4 | 3 | 3 | 32 | 4 | 3 | 2 | 3 | 4 | 4 | 4 | 2 | 4 | 30 |

Team

Doo Kang

Andre Claasen

Scott Sparks

James Wiley

Scores

| 1 | 2 | 3 | 4 | 5 | 6 | 7 | 8 | 9 | Front | 10 | 11 | 12 | 13 | 14 | 15 | 16 | 17 | 18 | Back |
| --- | --- | --- | --- | --- | --- | --- | --- | --- | --- | --- | --- | --- | --- | --- | --- | --- | --- | --- | --- |
| 4 | 3 | 5 | 3 | 3 | 4 | 4 | 2 | 4 | 32 | 3 | 4 | 2 | 3 | 4 | 4 | 3 | 3 | 5 | 31 |

Team

Michael Gary

Jason Edenfield

Yan Woo

Melvin Johnson

Scores

| 1 | 2 | 3 | 4 | 5 | 6 | 7 | 8 | 9 | Front | 10 | 11 | 12 | 13 | 14 | 15 | 16 | 17 | 18 | Back |
| --- | --- | --- | --- | --- | --- | --- | --- | --- | --- | --- | --- | --- | --- | --- | --- | --- | --- | --- | --- |
| 4 | 4 | 4 | 3 | 4 | 4 | 5 | 3 | 4 | 35 | 2 | 3 | 3 | 4 | 3 | 3 | 4 | 2 | 4 | 28 |

Team

Stetson Smith

Rob Royal

Ty Hobbs

Joe Boatwright

Scores

| 1 | 2 | 3 | 4 | 5 | 6 | 7 | 8 | 9 | Front | 10 | 11 | 12 | 13 | 14 | 15 | 16 | 17 | 18 | Back |
| --- | --- | --- | --- | --- | --- | --- | --- | --- | --- | --- | --- | --- | --- | --- | --- | --- | --- | --- | --- |
| 4 | 4 | 4 | 3 | 4 | 5 | 4 | 2 | 3 | 33 | 4 | 4 | 3 | 3 | 4 | 4 | 4 | 2 | 5 | 33 |

Team

John Ashley

Victor Steedley

Fred Windham

Mike Varnadoe

Scores

| 1 | 2 | 3 | 4 | 5 | 6 | 7 | 8 | 9 | Front | 10 | 11 | 12 | 13 | 14 | 15 | 16 | 17 | 18 | Back |
| --- | --- | --- | --- | --- | --- | --- | --- | --- | --- | --- | --- | --- | --- | --- | --- | --- | --- | --- | --- |
| 3 | 4 | 4 | 3 | 4 | 5 | 4 | 4 | 4 | 35 | 4 | 3 | 3 | 3 | 4 | 4 | 3 | 3 | 4 | 31 |

Team

Anthony Taylor

David Patillo

Dan Schuster

Ryan Winfield

Scores

| 1 | 2 | 3 | 4 | 5 | 6 | 7 | 8 | 9 | Front | 10 | 11 | 12 | 13 | 14 | 15 | 16 | 17 | 18 | Back |
| --- | --- | --- | --- | --- | --- | --- | --- | --- | --- | --- | --- | --- | --- | --- | --- | --- | --- | --- | --- |
| 4 | 3 | 5 | 2 | 4 | 5 | 5 | 3 | 3 | 34 | 4 | 3 | 3 | 5 | 4 | 5 | 3 | 3 | 4 | 34 |

Team

Chase O'Connor

Ryan Copeland

Dustin Hall

Davis Parker

Scores

| 1 | 2 | 3 | 4 | 5 | 6 | 7 | 8 | 9 | Front | 10 | 11 | 12 | 13 | 14 | 15 | 16 | 17 | 18 | Back |
| --- | --- | --- | --- | --- | --- | --- | --- | --- | --- | --- | --- | --- | --- | --- | --- | --- | --- | --- | --- |
| 4 | 5 | 4 | 4 | 4 | 4 | 5 | 3 | 4 | 37 | 4 | 4 | 3 | 5 | 4 | 4 | 4 | 3 | 5 | 36 |

The Lakes Golf Course
Laura S. Walker State Park, Waycross
3/11/2023

View Leaderboard

Team

Nathan Rau

Jason Corbell

Chris Gordon

Anthony Addotta

Scores

| 1 | 2 | 3 | 4 | 5 | 6 | 7 | 8 | 9 | Front | 10 | 11 | 12 | 13 | 14 | 15 | 16 | 17 | 18 | Back |
| --- | --- | --- | --- | --- | --- | --- | --- | --- | --- | --- | --- | --- | --- | --- | --- | --- | --- | --- | --- |
| 3 | 4 | 3 | 3 | 3 | 3 | 3 | 4 | 3 | 29 | 3 | 3 | 3 | 3 | 3 | 3 | 3 | 3 | 4 | 28 |

Team

Ryan Haugh

Tyler Holmes

Damon Noisette

James Tansey

Scores

| 1 | 2 | 3 | 4 | 5 | 6 | 7 | 8 | 9 | Front | 10 | 11 | 12 | 13 | 14 | 15 | 16 | 17 | 18 | Back |
| --- | --- | --- | --- | --- | --- | --- | --- | --- | --- | --- | --- | --- | --- | --- | --- | --- | --- | --- | --- |
| 3 | 3 | 3 | 4 | 3 | 2 | 3 | 4 | 4 | 29 | 3 | 4 | 3 | 4 | 2 | 3 | 3 | 2 | 4 | 28 |

Team

Jon Pirkle

John Floyd

Brandon Simmons

Bradley Abbgy

Scores

| 1 | 2 | 3 | 4 | 5 | 6 | 7 | 8 | 9 | Front | 10 | 11 | 12 | 13 | 14 | 15 | 16 | 17 | 18 | Back |
| --- | --- | --- | --- | --- | --- | --- | --- | --- | --- | --- | --- | --- | --- | --- | --- | --- | --- | --- | --- |
| 4 | 3 | 3 | 4 | 4 | 2 | 3 | 4 | 4 | 31 | 4 | 3 | 2 | 3 | 2 | 4 | 3 | 2 | 4 | 27 |

Team

Rick Hagen

Jake Griffin

Gene Chow

Mark Landon

Scores

| 1 | 2 | 3 | 4 | 5 | 6 | 7 | 8 | 9 | Front | 10 | 11 | 12 | 13 | 14 | 15 | 16 | 17 | 18 | Back |
| --- | --- | --- | --- | --- | --- | --- | --- | --- | --- | --- | --- | --- | --- | --- | --- | --- | --- | --- | --- |
| 3 | 4 | 2 | 4 | 3 | 2 | 3 | 4 | 3 | 28 | 4 | 4 | 3 | 4 | 3 | 4 | 3 | 3 | 3 | 31 |

Team

Michael Dudzinski

Dalton Bradley

Mike Block

Dawson Bradley

Scores

| 1 | 2 | 3 | 4 | 5 | 6 | 7 | 8 | 9 | Front | 10 | 11 | 12 | 13 | 14 | 15 | 16 | 17 | 18 | Back |
| --- | --- | --- | --- | --- | --- | --- | --- | --- | --- | --- | --- | --- | --- | --- | --- | --- | --- | --- | --- |
| 3 | 4 | 3 | 4 | 3 | 3 | 3 | 4 | 4 | 31 | 4 | 3 | 3 | 4 | 3 | 3 | 3 | 3 | 3 | 29 |

Team

Shawn Stanford

Barrett Hough

Joe Lawrenson

Jeremy Neal

Scores

| 1 | 2 | 3 | 4 | 5 | 6 | 7 | 8 | 9 | Front | 10 | 11 | 12 | 13 | 14 | 15 | 16 | 17 | 18 | Back |
| --- | --- | --- | --- | --- | --- | --- | --- | --- | --- | --- | --- | --- | --- | --- | --- | --- | --- | --- | --- |
| 4 | 3 | 3 | 4 | 3 | 3 | 3 | 4 | 4 | 31 | 3 | 4 | 3 | 5 | 3 | 4 | 3 | 2 | 3 | 30 |

Team

Leevon Payne

Ashley Livingston

Zach Taylor

Freddie Henderson

Scores

| 1 | 2 | 3 | 4 | 5 | 6 | 7 | 8 | 9 | Front | 10 | 11 | 12 | 13 | 14 | 15 | 16 | 17 | 18 | Back |
| --- | --- | --- | --- | --- | --- | --- | --- | --- | --- | --- | --- | --- | --- | --- | --- | --- | --- | --- | --- |
| 4 | 3 | 3 | 4 | 4 | 2 | 3 | 4 | 4 | 31 | 4 | 4 | 3 | 5 | 2 | 3 | 4 | 4 | 3 | 32 |

Team

McArthur Holman

Chase Holman

Jeffrey Holman

Corey Wrenn

Scores

| 1 | 2 | 3 | 4 | 5 | 6 | 7 | 8 | 9 | Front | 10 | 11 | 12 | 13 | 14 | 15 | 16 | 17 | 18 | Back |
| --- | --- | --- | --- | --- | --- | --- | --- | --- | --- | --- | --- | --- | --- | --- | --- | --- | --- | --- | --- |
| 3 | 3 | 3 | 5 | 4 | 3 | 4 | 3 | 4 | 32 | 4 | 4 | 4 | 4 | 3 | 4 | 3 | 3 | 4 | 33 |

Team

Billy Carter

Wayne Carter

Brent Hudgins

Patrick Ellenburg

Scores

| 1 | 2 | 3 | 4 | 5 | 6 | 7 | 8 | 9 | Front | 10 | 11 | 12 | 13 | 14 | 15 | 16 | 17 | 18 | Back |
| --- | --- | --- | --- | --- | --- | --- | --- | --- | --- | --- | --- | --- | --- | --- | --- | --- | --- | --- | --- |
| 4 | 4 | 3 | 5 | 3 | 3 | 3 | 5 | 4 | 34 | 4 | 3 | 3 | 5 | 3 | 4 | 3 | 2 | 4 | 31 |

Team

Kasey Vincent

Brian Bowen

John Hyche

Ryan Taylor

Scores

| 1 | 2 | 3 | 4 | 5 | 6 | 7 | 8 | 9 | Front | 10 | 11 | 12 | 13 | 14 | 15 | 16 | 17 | 18 | Back |
| --- | --- | --- | --- | --- | --- | --- | --- | --- | --- | --- | --- | --- | --- | --- | --- | --- | --- | --- | --- |
| 5 | 4 | 3 | 5 | 4 | 3 | 3 | 5 | 4 | 36 | 4 | 4 | 4 | 4 | 3 | 4 | 3 | 3 | 4 | 33 |

The Creek Golf Course
Hard Labor Creek State Park, Social Circle
3/18/2023

View Leaderboard

Team

Garrett Rowland

Cooper Young

Lee Sisson

Wendell Gooch

Scores

| 1 | 2 | 3 | 4 | 5 | 6 | 7 | 8 | 9 | Front | 10 | 11 | 12 | 13 | 14 | 15 | 16 | 17 | 18 | Back |
| --- | --- | --- | --- | --- | --- | --- | --- | --- | --- | --- | --- | --- | --- | --- | --- | --- | --- | --- | --- |
|   |   |   |   |   |   |   |   |   | 28 |   |   |   |   |   |   |   |   |   | 30 |

Team

Rob Loew

Randy Loew

Fred Kimmel

Scott Chaffin

Scores

| 1 | 2 | 3 | 4 | 5 | 6 | 7 | 8 | 9 | Front | 10 | 11 | 12 | 13 | 14 | 15 | 16 | 17 | 18 | Back |
| --- | --- | --- | --- | --- | --- | --- | --- | --- | --- | --- | --- | --- | --- | --- | --- | --- | --- | --- | --- |
|   |   |   |   |   |   |   |   |   | 30 |   |   |   |   |   |   |   |   |   | 28 |

Team

Josh Carver

Eric Brockman

Jackson Collins

Bailey Smith

Scores

| 1 | 2 | 3 | 4 | 5 | 6 | 7 | 8 | 9 | Front | 10 | 11 | 12 | 13 | 14 | 15 | 16 | 17 | 18 | Back |
| --- | --- | --- | --- | --- | --- | --- | --- | --- | --- | --- | --- | --- | --- | --- | --- | --- | --- | --- | --- |
|   |   |   |   |   |   |   |   |   | 30 |   |   |   |   |   |   |   |   |   | 28 |

Team

Harrison Elliott

Corbin Edwards

Matt Moore

Nick Green

Scores

| 1 | 2 | 3 | 4 | 5 | 6 | 7 | 8 | 9 | Front | 10 | 11 | 12 | 13 | 14 | 15 | 16 | 17 | 18 | Back |
| --- | --- | --- | --- | --- | --- | --- | --- | --- | --- | --- | --- | --- | --- | --- | --- | --- | --- | --- | --- |
|   |   |   |   |   |   |   |   |   | 29 |   |   |   |   |   |   |   |   |   | 30 |

Team

Patrick Watkins

Scott Pecore

Brandon Wilkes

Patrick Allgood

Scores

| 1 | 2 | 3 | 4 | 5 | 6 | 7 | 8 | 9 | Front | 10 | 11 | 12 | 13 | 14 | 15 | 16 | 17 | 18 | Back |
| --- | --- | --- | --- | --- | --- | --- | --- | --- | --- | --- | --- | --- | --- | --- | --- | --- | --- | --- | --- |
|   |   |   |   |   |   |   |   |   | 30 |   |   |   |   |   |   |   |   |   | 31 |

Team

Chris Bell

Alex Williams

Andrew Williams

Arthur Williams

Scores

| 1 | 2 | 3 | 4 | 5 | 6 | 7 | 8 | 9 | Front | 10 | 11 | 12 | 13 | 14 | 15 | 16 | 17 | 18 | Back |
| --- | --- | --- | --- | --- | --- | --- | --- | --- | --- | --- | --- | --- | --- | --- | --- | --- | --- | --- | --- |
|   |   |   |   |   |   |   |   |   | 34 |   |   |   |   |   |   |   |   |   | 27 |

Team

John Otani

Scott Glover

Scotte Pease

Mark Stickler

Scores

| 1 | 2 | 3 | 4 | 5 | 6 | 7 | 8 | 9 | Front | 10 | 11 | 12 | 13 | 14 | 15 | 16 | 17 | 18 | Back |
| --- | --- | --- | --- | --- | --- | --- | --- | --- | --- | --- | --- | --- | --- | --- | --- | --- | --- | --- | --- |
|   |   |   |   |   |   |   |   |   | 29 |   |   |   |   |   |   |   |   |   | 32 |

Team

Alexander Lando

Ed Collins

Brian Crain

Donovan McCallister

Scores

| 1 | 2 | 3 | 4 | 5 | 6 | 7 | 8 | 9 | Front | 10 | 11 | 12 | 13 | 14 | 15 | 16 | 17 | 18 | Back |
| --- | --- | --- | --- | --- | --- | --- | --- | --- | --- | --- | --- | --- | --- | --- | --- | --- | --- | --- | --- |
|   |   |   |   |   |   |   |   |   | 29 |   |   |   |   |   |   |   |   |   | 33 |

Team

Clint Peacock

Jarrod Jackson

Cody Sargent

Michelle Sargent

Scores

| 1 | 2 | 3 | 4 | 5 | 6 | 7 | 8 | 9 | Front | 10 | 11 | 12 | 13 | 14 | 15 | 16 | 17 | 18 | Back |
| --- | --- | --- | --- | --- | --- | --- | --- | --- | --- | --- | --- | --- | --- | --- | --- | --- | --- | --- | --- |
|   |   |   |   |   |   |   |   |   | 32 |   |   |   |   |   |   |   |   |   | 31 |

Team

Michael Dempsey

Warren Amos

Wes Davis

Matt Brown

Scores

| 1 | 2 | 3 | 4 | 5 | 6 | 7 | 8 | 9 | Front | 10 | 11 | 12 | 13 | 14 | 15 | 16 | 17 | 18 | Back |
| --- | --- | --- | --- | --- | --- | --- | --- | --- | --- | --- | --- | --- | --- | --- | --- | --- | --- | --- | --- |
|   |   |   |   |   |   |   |   |   | 32 |   |   |   |   |   |   |   |   |   | 31 |

Team

Cindy Morley

Gharold Logsdon

Donald Dryden

Trae Heard

Scores

| 1 | 2 | 3 | 4 | 5 | 6 | 7 | 8 | 9 | Front | 10 | 11 | 12 | 13 | 14 | 15 | 16 | 17 | 18 | Back |
| --- | --- | --- | --- | --- | --- | --- | --- | --- | --- | --- | --- | --- | --- | --- | --- | --- | --- | --- | --- |
|   |   |   |   |   |   |   |   |   | 32 |   |   |   |   |   |   |   |   |   | 33 |

Team

Jason Owensby

Bryce Burton

Matt Boozer

Dusty Strickland

Scores

| 1 | 2 | 3 | 4 | 5 | 6 | 7 | 8 | 9 | Front | 10 | 11 | 12 | 13 | 14 | 15 | 16 | 17 | 18 | Back |
| --- | --- | --- | --- | --- | --- | --- | --- | --- | --- | --- | --- | --- | --- | --- | --- | --- | --- | --- | --- |
|   |   |   |   |   |   |   |   |   | 33 |   |   |   |   |   |   |   |   |   | 32 |

Team

James Meadows

Brad Warnock

David Poynter

Kyle Seabolt

Scores

| 1 | 2 | 3 | 4 | 5 | 6 | 7 | 8 | 9 | Front | 10 | 11 | 12 | 13 | 14 | 15 | 16 | 17 | 18 | Back |
| --- | --- | --- | --- | --- | --- | --- | --- | --- | --- | --- | --- | --- | --- | --- | --- | --- | --- | --- | --- |
|   |   |   |   |   |   |   |   |   | 34 |   |   |   |   |   |   |   |   |   | 31 |

Team

Andrew Watkins

Evan Watkins

Phillip Webb

Carlos Hernandez

Scores

| 1 | 2 | 3 | 4 | 5 | 6 | 7 | 8 | 9 | Front | 10 | 11 | 12 | 13 | 14 | 15 | 16 | 17 | 18 | Back |
| --- | --- | --- | --- | --- | --- | --- | --- | --- | --- | --- | --- | --- | --- | --- | --- | --- | --- | --- | --- |
|   |   |   |   |   |   |   |   |   | 34 |   |   |   |   |   |   |   |   |   | 32 |

Team

Chris Freeman

Chad Freeman

Neil Schulz

Kenny Freeman

Scores

| 1 | 2 | 3 | 4 | 5 | 6 | 7 | 8 | 9 | Front | 10 | 11 | 12 | 13 | 14 | 15 | 16 | 17 | 18 | Back |
| --- | --- | --- | --- | --- | --- | --- | --- | --- | --- | --- | --- | --- | --- | --- | --- | --- | --- | --- | --- |
|   |   |   |   |   |   |   |   |   | 33 |   |   |   |   |   |   |   |   |   | 34 |

Team

Mitch Lindsey

Blue Strozier

Stewart Williams

Shane Bell

Scores

| 1 | 2 | 3 | 4 | 5 | 6 | 7 | 8 | 9 | Front | 10 | 11 | 12 | 13 | 14 | 15 | 16 | 17 | 18 | Back |
| --- | --- | --- | --- | --- | --- | --- | --- | --- | --- | --- | --- | --- | --- | --- | --- | --- | --- | --- | --- |
|   |   |   |   |   |   |   |   |   | 34 |   |   |   |   |   |   |   |   |   | 33 |

Team

Dan Ramsdell

David Cash

Tony Wilson

Mike Swords

Scores

| 1 | 2 | 3 | 4 | 5 | 6 | 7 | 8 | 9 | Front | 10 | 11 | 12 | 13 | 14 | 15 | 16 | 17 | 18 | Back |
| --- | --- | --- | --- | --- | --- | --- | --- | --- | --- | --- | --- | --- | --- | --- | --- | --- | --- | --- | --- |
|   |   |   |   |   |   |   |   |   | 34 |   |   |   |   |   |   |   |   |   | 33 |

Team

Dean Cates

Danny Edmonds

Mike McCrae

Varney Wilson

Scores

| 1 | 2 | 3 | 4 | 5 | 6 | 7 | 8 | 9 | Front | 10 | 11 | 12 | 13 | 14 | 15 | 16 | 17 | 18 | Back |
| --- | --- | --- | --- | --- | --- | --- | --- | --- | --- | --- | --- | --- | --- | --- | --- | --- | --- | --- | --- |
|   |   |   |   |   |   |   |   |   | 32 |   |   |   |   |   |   |   |   |   | 36 |

Team

Paul Schlumper

Jack Schlumper

Josh McElvey

Matt Harris

Scores

| 1 | 2 | 3 | 4 | 5 | 6 | 7 | 8 | 9 | Front | 10 | 11 | 12 | 13 | 14 | 15 | 16 | 17 | 18 | Back |
| --- | --- | --- | --- | --- | --- | --- | --- | --- | --- | --- | --- | --- | --- | --- | --- | --- | --- | --- | --- |
|   |   |   |   |   |   |   |   |   | 36 |   |   |   |   |   |   |   |   |   | 38 |

Highland Walk Golf Course
Victoria Bryant State Park, Royston
3/25/2023

View Leaderboard

Brazell's Creek Golf Course
Jack Hill State Park, Reidsville
4/1/2023

View Leaderboard

Team

Dale Warren

Kevin White

Corey Beverly

Steve Card

Scores

| 1 | 2 | 3 | 4 | 5 | 6 | 7 | 8 | 9 | Front | 10 | 11 | 12 | 13 | 14 | 15 | 16 | 17 | 18 | Back |
| --- | --- | --- | --- | --- | --- | --- | --- | --- | --- | --- | --- | --- | --- | --- | --- | --- | --- | --- | --- |
| 3 | 3 | 3 | 3 | 4 | 3 | 4 | 3 | 4 | 30 | 4 | 3 | 4 | 3 | 3 | 3 | 3 | 3 | 4 | 30 |

Team

Doo Kang

Andre Claasen

Scott Sparks

Doug Percival

Scores

| 1 | 2 | 3 | 4 | 5 | 6 | 7 | 8 | 9 | Front | 10 | 11 | 12 | 13 | 14 | 15 | 16 | 17 | 18 | Back |
| --- | --- | --- | --- | --- | --- | --- | --- | --- | --- | --- | --- | --- | --- | --- | --- | --- | --- | --- | --- |
| 3 | 3 | 3 | 3 | 3 | 4 | 5 | 3 | 3 | 30 | 4 | 3 | 4 | 3 | 4 | 3 | 4 | 2 | 4 | 31 |

Team

Stetson Smith

Rob Royal

Sid Royal

Alan Madray

Scores

| 1 | 2 | 3 | 4 | 5 | 6 | 7 | 8 | 9 | Front | 10 | 11 | 12 | 13 | 14 | 15 | 16 | 17 | 18 | Back |
| --- | --- | --- | --- | --- | --- | --- | --- | --- | --- | --- | --- | --- | --- | --- | --- | --- | --- | --- | --- |
| 4 | 3 | 4 | 2 | 2 | 4 | 6 | 3 | 4 | 32 | 3 | 3 | 4 | 4 | 3 | 3 | 3 | 2 | 4 | 29 |

Team

John Turner

Josh Turner

Blake Mullis

Nick Rowel

Scores

| 1 | 2 | 3 | 4 | 5 | 6 | 7 | 8 | 9 | Front | 10 | 11 | 12 | 13 | 14 | 15 | 16 | 17 | 18 | Back |
| --- | --- | --- | --- | --- | --- | --- | --- | --- | --- | --- | --- | --- | --- | --- | --- | --- | --- | --- | --- |
| 3 | 3 | 4 | 2 | 3 | 4 | 5 | 3 | 3 | 30 | 4 | 3 | 4 | 4 | 4 | 2 | 3 | 3 | 4 | 31 |

Team

Greg Conner

Brandon Wilkes

Jonathan Hix

Bailey LePalme

Scores

| 1 | 2 | 3 | 4 | 5 | 6 | 7 | 8 | 9 | Front | 10 | 11 | 12 | 13 | 14 | 15 | 16 | 17 | 18 | Back |
| --- | --- | --- | --- | --- | --- | --- | --- | --- | --- | --- | --- | --- | --- | --- | --- | --- | --- | --- | --- |
| 3 | 3 | 4 | 3 | 4 | 3 | 5 | 3 | 4 | 32 | 3 | 2 | 4 | 3 | 3 | 3 | 4 | 3 | 4 | 29 |

Team

David Bosnyak

Eric Fisher

Joe Westburg

Chris Fisher

Scores

| 1 | 2 | 3 | 4 | 5 | 6 | 7 | 8 | 9 | Front | 10 | 11 | 12 | 13 | 14 | 15 | 16 | 17 | 18 | Back |
| --- | --- | --- | --- | --- | --- | --- | --- | --- | --- | --- | --- | --- | --- | --- | --- | --- | --- | --- | --- |
| 3 | 3 | 4 | 2 | 3 | 4 | 4 | 4 | 3 | 30 | 3 | 3 | 4 | 4 | 3 | 3 | 4 | 3 | 4 | 31 |

Team

Steven Kirkland

Abe Parker

Will Parker

Tony Abler

Scores

| 1 | 2 | 3 | 4 | 5 | 6 | 7 | 8 | 9 | Front | 10 | 11 | 12 | 13 | 14 | 15 | 16 | 17 | 18 | Back |
| --- | --- | --- | --- | --- | --- | --- | --- | --- | --- | --- | --- | --- | --- | --- | --- | --- | --- | --- | --- |
| 3 | 3 | 4 | 3 | 3 | 4 | 4 | 3 | 4 | 31 | 3 | 3 | 4 | 4 | 4 | 3 | 4 | 3 | 4 | 32 |

Team

Brandon Costlow

Jim Costlow

Chad Gillen

Chuck Francis

Scores

| 1 | 2 | 3 | 4 | 5 | 6 | 7 | 8 | 9 | Front | 10 | 11 | 12 | 13 | 14 | 15 | 16 | 17 | 18 | Back |
| --- | --- | --- | --- | --- | --- | --- | --- | --- | --- | --- | --- | --- | --- | --- | --- | --- | --- | --- | --- |
| 4 | 3 | 3 | 3 | 4 | 4 | 4 | 3 | 3 | 31 | 4 | 3 | 4 | 3 | 5 | 3 | 3 | 3 | 4 | 32 |

Team

Sean Page

Donnie Stokes

Todd Vann

Mitchell Nabb

Scores

| 1 | 2 | 3 | 4 | 5 | 6 | 7 | 8 | 9 | Front | 10 | 11 | 12 | 13 | 14 | 15 | 16 | 17 | 18 | Back |
| --- | --- | --- | --- | --- | --- | --- | --- | --- | --- | --- | --- | --- | --- | --- | --- | --- | --- | --- | --- |
| 4 | 2 | 4 | 3 | 3 | 3 | 4 | 3 | 4 | 30 | 4 | 3 | 5 | 4 | 4 | 3 | 4 | 3 | 5 | 35 |

Team

Steve Taylor

Scott Spivey

Hand Braddy

Trent Taylor

Scores

| 1 | 2 | 3 | 4 | 5 | 6 | 7 | 8 | 9 | Front | 10 | 11 | 12 | 13 | 14 | 15 | 16 | 17 | 18 | Back |
| --- | --- | --- | --- | --- | --- | --- | --- | --- | --- | --- | --- | --- | --- | --- | --- | --- | --- | --- | --- |
| 4 | 3 | 3 | 2 | 3 | 4 | 5 | 4 | 4 | 32 | 4 | 3 | 4 | 4 | 4 | 4 | 4 | 3 | 4 | 34 |

Team

Dayne Brown

Jesse Johnson

Mike Ryle

Steve Wrenn

Scores

| 1 | 2 | 3 | 4 | 5 | 6 | 7 | 8 | 9 | Front | 10 | 11 | 12 | 13 | 14 | 15 | 16 | 17 | 18 | Back |
| --- | --- | --- | --- | --- | --- | --- | --- | --- | --- | --- | --- | --- | --- | --- | --- | --- | --- | --- | --- |
| 4 | 3 | 4 | 2 | 4 | 4 | 5 | 4 | 5 | 35 | 5 | 4 | 4 | 4 | 4 | 3 | 5 | 3 | 5 | 37 |

Meadow Links Golf Course
George T. Bagby State Park, Fort Gaines
4/15/2023

View Leaderboard

Team

Greg Conner

Brandon Wilkes

Jonathan Hix

Patrick Watkins

Scores

| 1 | 2 | 3 | 4 | 5 | 6 | 7 | 8 | 9 | Front | 10 | 11 | 12 | 13 | 14 | 15 | 16 | 17 | 18 | Back |
| --- | --- | --- | --- | --- | --- | --- | --- | --- | --- | --- | --- | --- | --- | --- | --- | --- | --- | --- | --- |
| 3 | 4 | 3 | 2 | 4 | 4 | 2 | 4 | 3 | 29 | 3 | 2 | 3 | 3 | 4 | 3 | 3 | 2 | 4 | 27 |

Team

AJ Pate

Jeff Pate

Don Otto

Colton Cox

Scores

| 1 | 2 | 3 | 4 | 5 | 6 | 7 | 8 | 9 | Front | 10 | 11 | 12 | 13 | 14 | 15 | 16 | 17 | 18 | Back |
| --- | --- | --- | --- | --- | --- | --- | --- | --- | --- | --- | --- | --- | --- | --- | --- | --- | --- | --- | --- |
| 3 | 3 | 4 | 3 | 3 | 4 | 3 | 4 | 3 | 30 | 3 | 3 | 2 | 4 | 4 | 4 | 3 | 2 | 3 | 28 |

Team

Robert Davis

Brandon Stewart

Patrick Dollar

Andrew Riner

Scores

| 1 | 2 | 3 | 4 | 5 | 6 | 7 | 8 | 9 | Front | 10 | 11 | 12 | 13 | 14 | 15 | 16 | 17 | 18 | Back |
| --- | --- | --- | --- | --- | --- | --- | --- | --- | --- | --- | --- | --- | --- | --- | --- | --- | --- | --- | --- |
| 3 | 2 | 3 | 3 | 4 | 3 | 2 | 3 | 4 | 27 | 4 | 3 | 3 | 3 | 4 | 4 | 3 | 3 | 4 | 31 |

Team

David Schmid

Rafael Bryan

Sterling Krick

Eric Stinnett

Scores

| 1 | 2 | 3 | 4 | 5 | 6 | 7 | 8 | 9 | Front | 10 | 11 | 12 | 13 | 14 | 15 | 16 | 17 | 18 | Back |
| --- | --- | --- | --- | --- | --- | --- | --- | --- | --- | --- | --- | --- | --- | --- | --- | --- | --- | --- | --- |
| 3 | 4 | 2 | 2 | 4 | 3 | 2 | 4 | 4 | 28 | 4 | 2 | 4 | 4 | 4 | 3 | 4 | 3 | 4 | 32 |

Team

Gary Tew

Billy Hamm

Randy Roland

Richard Irwin

Scores

| 1 | 2 | 3 | 4 | 5 | 6 | 7 | 8 | 9 | Front | 10 | 11 | 12 | 13 | 14 | 15 | 16 | 17 | 18 | Back |
| --- | --- | --- | --- | --- | --- | --- | --- | --- | --- | --- | --- | --- | --- | --- | --- | --- | --- | --- | --- |
| 3 | 4 | 3 | 3 | 4 | 3 | 3 | 4 | 3 | 30 | 4 | 3 | 4 | 3 | 4 | 3 | 3 | 3 | 4 | 31 |

Team

Sonny Taylor

Thomas Bernard

Mike Thomaston

Scores

| 1 | 2 | 3 | 4 | 5 | 6 | 7 | 8 | 9 | Front | 10 | 11 | 12 | 13 | 14 | 15 | 16 | 17 | 18 | Back |
| --- | --- | --- | --- | --- | --- | --- | --- | --- | --- | --- | --- | --- | --- | --- | --- | --- | --- | --- | --- |
| 4 | 4 | 4 | 2 | 5 | 3 | 3 | 4 | 5 | 34 | 4 | 3 | 3 | 4 | 4 | 4 | 3 | 3 | 3 | 31 |

Arrowhead Pointe Golf Course
Richard B. Russell State Park, Elberton
5/6/2023

View Leaderboard

Team

Shayne Bennett

Kevin Dye

Sandy Thornton

Nathan Thornton

Scores

| 1 | 2 | 3 | 4 | 5 | 6 | 7 | 8 | 9 | Front | 10 | 11 | 12 | 13 | 14 | 15 | 16 | 17 | 18 | Back |
| --- | --- | --- | --- | --- | --- | --- | --- | --- | --- | --- | --- | --- | --- | --- | --- | --- | --- | --- | --- |
| 4 | 3 | 3 | 4 | 4 | 3 | 2 | 4 | 3 | 30 | 3 | 3 | 4 | 2 | 3 | 1 | 3 | 3 | 3 | 25 |

Team

Donald Cox

Gerald Floyd

Mike Burr

Christian Burr

Scores

| 1 | 2 | 3 | 4 | 5 | 6 | 7 | 8 | 9 | Front | 10 | 11 | 12 | 13 | 14 | 15 | 16 | 17 | 18 | Back |
| --- | --- | --- | --- | --- | --- | --- | --- | --- | --- | --- | --- | --- | --- | --- | --- | --- | --- | --- | --- |
| 3 | 4 | 2 | 3 | 3 | 3 | 3 | 3 | 3 | 27 | 5 | 3 | 4 | 3 | 3 | 2 | 4 | 3 | 3 | 30 |

Team

Mark Saxon

Mack

Bart Carswell

Chris Jatzeh

Scores

| 1 | 2 | 3 | 4 | 5 | 6 | 7 | 8 | 9 | Front | 10 | 11 | 12 | 13 | 14 | 15 | 16 | 17 | 18 | Back |
| --- | --- | --- | --- | --- | --- | --- | --- | --- | --- | --- | --- | --- | --- | --- | --- | --- | --- | --- | --- |
| 3 | 3 | 2 | 4 | 4 | 4 | 2 | 4 | 3 | 29 | 4 | 3 | 3 | 2 | 3 | 2 | 5 | 3 | 4 | 29 |

Team

Garrett Stone

Jake Miller

Joe Miller

Colt MArtin

Scores

| 1 | 2 | 3 | 4 | 5 | 6 | 7 | 8 | 9 | Front | 10 | 11 | 12 | 13 | 14 | 15 | 16 | 17 | 18 | Back |
| --- | --- | --- | --- | --- | --- | --- | --- | --- | --- | --- | --- | --- | --- | --- | --- | --- | --- | --- | --- |
| 3 | 4 | 3 | 3 | 4 | 3 | 2 | 3 | 4 | 29 | 4 | 4 | 3 | 2 | 3 | 2 | 4 | 3 | 4 | 29 |

Team

Ken Morgan

Caleb Shealy

Matt Boggs

Blake Goodroe

Scores

| 1 | 2 | 3 | 4 | 5 | 6 | 7 | 8 | 9 | Front | 10 | 11 | 12 | 13 | 14 | 15 | 16 | 17 | 18 | Back |
| --- | --- | --- | --- | --- | --- | --- | --- | --- | --- | --- | --- | --- | --- | --- | --- | --- | --- | --- | --- |
| 3 | 3 | 3 | 3 | 4 | 3 | 2 | 3 | 4 | 28 | 4 | 3 | 4 | 2 | 4 | 2 | 5 | 3 | 4 | 31 |

Team

Tom Blakenship

Bob Blakenship

Mike Croft

Dane Cartwright

Scores

| 1 | 2 | 3 | 4 | 5 | 6 | 7 | 8 | 9 | Front | 10 | 11 | 12 | 13 | 14 | 15 | 16 | 17 | 18 | Back |
| --- | --- | --- | --- | --- | --- | --- | --- | --- | --- | --- | --- | --- | --- | --- | --- | --- | --- | --- | --- |
| 4 | 4 | 3 | 3 | 4 | 4 | 2 | 3 | 3 | 30 | 4 | 4 | 3 | 3 | 3 | 2 | 4 | 3 | 3 | 29 |

Team

Matt O'Neal

Allen Newman

Brian Singley

Kent Strickland

Scores

| 1 | 2 | 3 | 4 | 5 | 6 | 7 | 8 | 9 | Front | 10 | 11 | 12 | 13 | 14 | 15 | 16 | 17 | 18 | Back |
| --- | --- | --- | --- | --- | --- | --- | --- | --- | --- | --- | --- | --- | --- | --- | --- | --- | --- | --- | --- |
| 3 | 3 | 3 | 3 | 3 | 4 | 3 | 3 | 4 | 29 | 4 | 3 | 4 | 3 | 3 | 2 | 4 | 4 | 3 | 30 |

Team

Logan Hicks

Jordan Versteeg

Wes Donnelly

Taylor Hicks

Scores

| 1 | 2 | 3 | 4 | 5 | 6 | 7 | 8 | 9 | Front | 10 | 11 | 12 | 13 | 14 | 15 | 16 | 17 | 18 | Back |
| --- | --- | --- | --- | --- | --- | --- | --- | --- | --- | --- | --- | --- | --- | --- | --- | --- | --- | --- | --- |
| 4 | 3 | 3 | 3 | 4 | 3 | 2 | 3 | 4 | 29 | 4 | 3 | 5 | 3 | 3 | 2 | 4 | 4 | 4 | 32 |

Team

Tyler Harris

Brad Harrison

Pat Jordan

Rusty Watters

Scores

| 1 | 2 | 3 | 4 | 5 | 6 | 7 | 8 | 9 | Front | 10 | 11 | 12 | 13 | 14 | 15 | 16 | 17 | 18 | Back |
| --- | --- | --- | --- | --- | --- | --- | --- | --- | --- | --- | --- | --- | --- | --- | --- | --- | --- | --- | --- |
| 4 | 3 | 3 | 4 | 3 | 4 | 3 | 4 | 4 | 32 | 3 | 3 | 3 | 2 | 4 | 3 | 4 | 3 | 4 | 29 |

Team

Scott Kennedy

Mark Thornton

Jackson Thornton

Charlie Jones

Scores

| 1 | 2 | 3 | 4 | 5 | 6 | 7 | 8 | 9 | Front | 10 | 11 | 12 | 13 | 14 | 15 | 16 | 17 | 18 | Back |
| --- | --- | --- | --- | --- | --- | --- | --- | --- | --- | --- | --- | --- | --- | --- | --- | --- | --- | --- | --- |
| 4 | 4 | 3 | 3 | 4 | 3 | 3 | 3 | 4 | 31 | 4 | 3 | 4 | 2 | 4 | 2 | 4 | 3 | 4 | 30 |

Team

Stan Watson

Darryl Evans

Jonathan Schooler

John Schooler

Scores

| 1 | 2 | 3 | 4 | 5 | 6 | 7 | 8 | 9 | Front | 10 | 11 | 12 | 13 | 14 | 15 | 16 | 17 | 18 | Back |
| --- | --- | --- | --- | --- | --- | --- | --- | --- | --- | --- | --- | --- | --- | --- | --- | --- | --- | --- | --- |
| 3 | 4 | 3 | 3 | 4 | 3 | 2 | 4 | 3 | 29 | 4 | 4 | 4 | 2 | 3 | 3 | 4 | 4 | 4 | 32 |

Team

Josh Gragg

Quinn Floyd

Matt Dunbrack

Scores

| 1 | 2 | 3 | 4 | 5 | 6 | 7 | 8 | 9 | Front | 10 | 11 | 12 | 13 | 14 | 15 | 16 | 17 | 18 | Back |
| --- | --- | --- | --- | --- | --- | --- | --- | --- | --- | --- | --- | --- | --- | --- | --- | --- | --- | --- | --- |
| 4 | 4 | 3 | 3 | 4 | 4 | 3 | 3 | 4 | 32 | 4 | 4 | 3 | 3 | 3 | 3 | 5 | 3 | 3 | 31 |

Team

Richard Yoder

Loren Yoder

Keith Yoder

Gary Yoder

Scores

| 1 | 2 | 3 | 4 | 5 | 6 | 7 | 8 | 9 | Front | 10 | 11 | 12 | 13 | 14 | 15 | 16 | 17 | 18 | Back |
| --- | --- | --- | --- | --- | --- | --- | --- | --- | --- | --- | --- | --- | --- | --- | --- | --- | --- | --- | --- |
| 5 | 4 | 3 | 3 | 3 | 4 | 3 | 4 | 4 | 33 | 4 | 3 | 4 | 2 | 4 | 2 | 5 | 3 | 3 | 30 |

Team

Daniel Kimmel

Chris Clayton

Nate Christianson

Preston Biggers

Scores

| 1 | 2 | 3 | 4 | 5 | 6 | 7 | 8 | 9 | Front | 10 | 11 | 12 | 13 | 14 | 15 | 16 | 17 | 18 | Back |
| --- | --- | --- | --- | --- | --- | --- | --- | --- | --- | --- | --- | --- | --- | --- | --- | --- | --- | --- | --- |
| 4 | 4 | 3 | 3 | 4 | 4 | 3 | 4 | 3 | 32 | 4 | 4 | 3 | 2 | 4 | 3 | 4 | 4 | 4 | 32 |

Team

Dale Branch

Dalton Hill

Billy Finch

Terrell Wall

Scores

| 1 | 2 | 3 | 4 | 5 | 6 | 7 | 8 | 9 | Front | 10 | 11 | 12 | 13 | 14 | 15 | 16 | 17 | 18 | Back |
| --- | --- | --- | --- | --- | --- | --- | --- | --- | --- | --- | --- | --- | --- | --- | --- | --- | --- | --- | --- |
| 5 | 4 | 3 | 3 | 4 | 3 | 2 | 4 | 4 | 32 | 4 | 3 | 4 | 3 | 4 | 2 | 4 | 4 | 4 | 32 |

Team

Donnie Steed

Tim Powell

Kyle Roper

Marcus Schubert

Scores

| 1 | 2 | 3 | 4 | 5 | 6 | 7 | 8 | 9 | Front | 10 | 11 | 12 | 13 | 14 | 15 | 16 | 17 | 18 | Back |
| --- | --- | --- | --- | --- | --- | --- | --- | --- | --- | --- | --- | --- | --- | --- | --- | --- | --- | --- | --- |
| 5 | 4 | 3 | 3 | 4 | 3 | 3 | 4 | 3 | 32 | 4 | 3 | 4 | 3 | 4 | 3 | 4 | 4 | 4 | 33 |

Team

Phillip Thornton

Jason Crooke

Jack Thurman

Dee Thornton

Scores

| 1 | 2 | 3 | 4 | 5 | 6 | 7 | 8 | 9 | Front | 10 | 11 | 12 | 13 | 14 | 15 | 16 | 17 | 18 | Back |
| --- | --- | --- | --- | --- | --- | --- | --- | --- | --- | --- | --- | --- | --- | --- | --- | --- | --- | --- | --- |
| 4 | 3 | 3 | 3 | 5 | 4 | 3 | 4 | 3 | 32 | 4 | 4 | 4 | 3 | 4 | 4 | 4 | 4 | 4 | 35 |

Team

Tim Hughes

Nicholas Hughes

Bailey Hughes

Lucas Ivory

Scores

| 1 | 2 | 3 | 4 | 5 | 6 | 7 | 8 | 9 | Front | 10 | 11 | 12 | 13 | 14 | 15 | 16 | 17 | 18 | Back |
| --- | --- | --- | --- | --- | --- | --- | --- | --- | --- | --- | --- | --- | --- | --- | --- | --- | --- | --- | --- |
| 4 | 4 | 3 | 3 | 4 | 3 | 3 | 4 | 4 | 32 | 5 | 4 | 4 | 3 | 4 | 3 | 6 | 4 | 3 | 36 |

Team

Dylan Hogan

Trent Smith

Tyler Hogan

Zaine Tuck

Scores

| 1 | 2 | 3 | 4 | 5 | 6 | 7 | 8 | 9 | Front | 10 | 11 | 12 | 13 | 14 | 15 | 16 | 17 | 18 | Back |
| --- | --- | --- | --- | --- | --- | --- | --- | --- | --- | --- | --- | --- | --- | --- | --- | --- | --- | --- | --- |
| 4 | 4 | 3 | 4 | 5 | 4 | 3 | 3 | 5 | 35 | 4 | 4 | 3 | 3 | 3 | 3 | 6 | 3 | 4 | 33 |

Team

Jonathan Frazier

Jerry Frazier

Willie Frazier Jr.

Jeremy Hardesty

Scores

| 1 | 2 | 3 | 4 | 5 | 6 | 7 | 8 | 9 | Front | 10 | 11 | 12 | 13 | 14 | 15 | 16 | 17 | 18 | Back |
| --- | --- | --- | --- | --- | --- | --- | --- | --- | --- | --- | --- | --- | --- | --- | --- | --- | --- | --- | --- |
| 4 | 4 | 3 | 4 | 5 | 4 | 3 | 4 | 4 | 35 | 4 | 3 | 4 | 3 | 4 | 3 | 4 | 4 | 4 | 33 |

Championship: Wallace Adams Golf Course
Little Ocmulgee State Park, Helena
6/2/2023
---
Rules

CONDITIONS OF COMPETITION AND LOCAL RULES

The Rules of the United States Golf Association govern play, as modified by the Tournament Committee. See applicable competition's "Notice to Competitors (Players)" for additional Definitions, Local Rules and Conditions. Complete text of Rules and Appendix I may be found in the current Rules of Golf.

EVENT:

The State Park Cup is a 2-part event to find the best scramble team in Georgia. Each team will sign up at any of the listed courses and participate in the qualifying round. A team may play at more than 1 course but if they cannot qualify at two courses or take a qualification spot away from another team.

Each course will host a four-person scramble and the top teams (depending on number of teams entered) will move on to the championship tournament. This will not be a handicapped event, but all teams are welcome to play. Each team is limited to one pro at most (any Class A PGA Professional).

Information on the championship tournament can be found below

FORMAT:

Each player will tee off and the best shot will be chosen. All players must then hit from the chosen location. The ball may be lifted, cleaned and placed within 1 club length, no nearer to the hole. Ball must remain in original condition (may not be moved from rough to fairway, hazard to rough etc.)

HAZARDS AND OUT OF BOUNDS:

All wooded areas that surround the course will be played as a hazard. If a ball is lost in the hazard you may, under 1-stroke penalty, take a drop within two club-lengths of where the ball entered the hazard no nearer to the hole. Only out of bounds is main road entering facility.

TEES PLAYED:

Men - White Tees (6,200 yards)
Seniors (62 and older) – Black Tees (5,500 yards)
Ladies - Red Tees (5,300 yards)

SCORING AND SCORECARDS:

Maximum score for each hole is double bogey. All putts must be holed out. Please return scorecards to scoring area immediately following play.

Championship Event

Championship Event

To be hosted June 2 & 3, 2023.

27-hole championship event. Teams will be repaired after first 18 based on position. All golf and meals will be included for all players. Extra room nights will be available at pre-determined rate.

---

Championship Event Timeline:

Friday:

12:00 - Resort Check-In
1-3:00 - Practice Round
7:30 Champions Dinner/Awards Ceremony

Saturday:

8:00 am Registration/Breakfast
9:00 am Shotgun start
11:30 Lunch at turn
3:00 Re-pairing of groups and 9 hole final shotgun
6:00 Champions crowned