Find Out How to Increase the Value & Benefits of Your Land
Keep Up-to-Date by Liking the Agroforestry and Wildlife Field Day Facebook Page!
Agroforestry and Wildlife Field Day is an event designed to inform private landowners, hunters and those in the forestry or agribusiness fields about using their land to maximize all aspects of the natural environment.  
Federal and state experts in the fields of wildlife and forest management will be on hand to present the most up-to-date research-based information. The field day will include both management recommendations and real-life technique demonstrations.   
Field day participants will be shuttled to field day sites via tram and will receive a take-home booklet that includes expanded topic and speaker information.  
Continuing Education Credits (CEU) are available for several fields, including pesticide (several categories), forestry, logger, arborist and wildlife.   
Photos from Past Agroforestry and Wildlife Field Day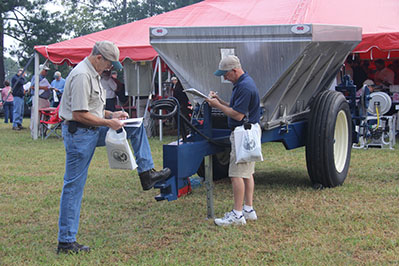 The event is sponsored by: 
University of Georgia, College of Agricultural and Environmental Sciences
University of Georgia, Warnell School of Forestry and Natural Resources
Georgia Forestry Commission
Georgia Department of Natural Resources' Wildlife Resources Division
USDA, Natural Resources Conservation Service
Abraham Baldwin Agricultural College