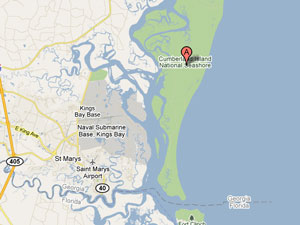 Cumberland Island is the southernmost and longest of Georgia's barrier islands. Including the marsh, it has a total acreage of 23,000 acres, 15,000 of which are uplands. The island is one and a half to three miles wide and has 17.5 miles of beach.
Cumberland was once inhabited by a Florida tribe of the Timucuan Indians who called the island Missoe which means sassafras. The island was renamed San Pedro by the Spanish who settled, set up a mission and occupied the island for more than a century. It was named Cumberland in 1734 by Chief Tomochichi in honor of his friend William Augustus, Duke of Cumberland. In 1738, the British built Fort William or Prince Williams Fort at the lower end of the island and Fort St. Andrews at the northern end. General Oglethorpe built a hunting lodge near Fort William and named it Dungeness after the royal county seat upon the "ness" in the County of Kent. Between 1765 and 1768, James Cuthbert, Jonathan and Josiah Bryan, John Smith and James Habersham were given royal grants on the island. After the Revolutionary War, Cumberland became part of Camden County.
For several years, Cumberland was used as a hideout by smugglers and one small neighboring island is still known as Hush-Your-Mouth Island. During the plantation days (approximately 1780's - 1860) several plantations prospered including the Stafford Plantation and Dungeness (home of General Nathaniel Greene). These plantations fell into ruin after the Civil War and were deserted until 1882, when a large part of the island was sold to Thomas Carnegie of Pittsburgh. The Carnegie family rebuilt the Dungeness mansion in 1880 and other family members built Plum Orchard in 1898, the Stafford Place and Grey Field in 1901. Around 1900, W. P. Bunkly built the Hotel Cumberland on the northern end of the island called High Point. This property later became the property of the Candler family of Atlanta.
Portions of Cumberland were donated to the National Parks Service in 1970 and by an Act of Congress in 1972 it became a National Seashore. In 1982, the northern half of the island was added to the National Wilderness Preservation System. Today the island is managed by the National Parks Service and day trips and short-term camping, are available. No more than 300 people are allowed to visit the island per day. There are still several private residences on the island and the Grey Field Inn, a private commercial facility, offers overnight accommodations.