Overview
The best available science shows that lethal removal of coyotes during spring-summer is most effective for reducing negative impacts from coyote predation on native wildlife, which is why this program is focused on March–August. To address concerns about coyotes, our agency is raising awareness that coyotes can be hunted and trapped year-round. The Coyote Challenge is part of this educational effort.
Prize
Winners will receive a lifetime license or similarly valued item.
Rules
Program period runs from March 1–August 31, 2018.
Three drawings during program period:

1st week of May covering entries in March & April
1st week of July covering entries in May & June
1st week of September covering entries in July & August

Participants may submit up to 10 coyotes each drawing period and eligible coyotes must be killed within the drawing period.
Coyotes must be taken in Georgia to be eligible. Road-kills, spoiled carcasses, and live coyotes are not eligible.
Entry Procedures
Snap a picture of your coyote with your phone as soon as you recover the carcass. Email that picture from your phone to coyote.challenge@dnr.ga.gov. Photos should include the entire, intact carcass; any photo of an ear-notched coyote, obvious roadkill or clearly old/rotten carcass will be disqualified.
You'll receive an autoreply with a link to the entry form. Be sure to include your email address when you fill out the entry form! You will only receive an autoreply for the first entry. To submit additional entries, please reuse the link provided to you in the first autoreply email.
---
Sponsor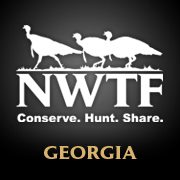 Special thanks to NWTF Georgia Chapter for sponsoring the lifetime license.
---