Give by filling in an amount of $1 or more on line 26 of Georgia's long income tax form (Form 500) or line 10 of the short form (Form 500EZ). Contributions go to the Wildlife Conservation Fund.
Every contribution helps. Created in 1989, the Give Wildlife a Chance checkoff has averaged more than $300,000 a year, benefiting conservation of gopher tortoises, cerulean warblers, smooth purple coneflowers and other species. State income tax forms and e-filing details are available online.
Georgians can also support our state's nongame wildlife at tax time.
What is often called the Give Wildlife a Chance state income tax checkoff provides an easy and effective way to contribute to the Georgia Wildlife Conservation Fund. By filling in a dollar amount on line 30 of the long form (Form 500) or line 10 of the short form (Form 500-EZ), citizens can support nongame species management and conservation in Georgia.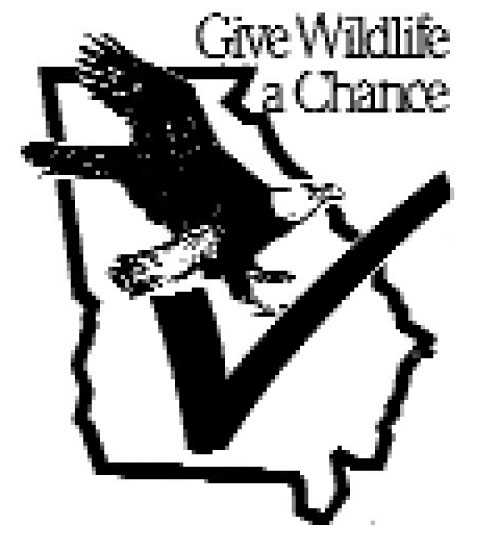 Every dollar counts. And thanks to the generosity of Georgians, the checkoff has raised more than $7 million since it was created in 1989. Contributions played a part in many conservation achievements, varying from the restoration of bald eagle populations to land acquisitions available for public recreation such as Silver Lake Wildlife Management Area near Bainbridge and thousands of acres of prime wildlife habitat along the Altamaha River in southeastern Georgia.
The checkoff made up only about 6 percent of Wildlife Conservation Fund revenues in fiscal 2016, hitting an all-time low of $131,248 in contributions.
For more information, call Nongame Conservation Section offices in Social Circle (770-761-3035), Forsyth (478-994-1438) or Brunswick (912-264-7218).
State income tax forms and e-filing details are at http://dor.georgia.gov/taxes.
The Give Wildlife a Chance checkoff logo and wildlife photographs are available in the "Give Wildlife a Chance" album at www.flickr.com/wildliferesourcesdivision.